Electric Last Mile Solutions (ELMS) is a SPAC that was founded in November of 2020 by James (Jim) Taylor. Jim was not only a former Workhorse Group CEO & Chairman himself but also but he was also the chairman and mentor that oversaw Steve Burns as CEO. Burns is the disgraced Lordstown Motors's CEO.
Lordstown Motors has a DOJ and SEC investigation and is -82% since its fake order book façade was blown off by Hindenburg Research.
Workhorse Group has a DOJ and SEC investigation and is -86% since Fuzzy Panda Research exposed their disastrous USPS prototype performance as well as their own fake order book.
We are short ELMS because we think they have taken misleading statements to investors to a different level and gone beyond just exaggerating the size of their order book.
ELMS DO NOT even BUILD their own EVs

Import Records show ELMS is importing fully assembled Chinese vehicles and trying to pass them off as "Made in the USA."

Secure order book and revenue is actually returnable!

ELMS's major "customer" is Randy Marion Automotive – Contracts show that Randy Marion has the right to RETURN all the vehicles purchased from ELMS. We think ELMS has potentially been questionably booking revenue.

Overpaid for an idled factory – capital from their SPAC IPO was used to buy a factory that had been idled and was about to be written down.

Purchased from the company ELMS recently fired CEO used to run at a >60% premium.

Factory Visits = Empty Parking Lots + Chinese Vehicles with ELMS "logo added".
Customer Reviews – "Overpriced Golf Carts" – Pilot customers have consistently told us they did not order any ELMS vehicles post their free trial.
Demand Problem: salespeople told us they have >250 available for sale right now.
Capital Raise Needed Soon: ELMS has <5 months of cash remaining.
ELMS Board of Directors surprised markets by announcing that its co-founders (CEO and Chairman) were "resigning" effective immediately after the results of an internal investigation showed that they both engaged in improper trading of shares of ELMS ahead of the SPAC transaction announcement.
Unfortunately for new management and ELMS investors, based on our extensive research into ELMS we think this is just the tip of the iceberg.
ELMS is yet another Workhorse-connected casualty founded by another former Workhorse CEO. We believe the story will end up the same as Workhorse & Lordstown Motors.
We are short ELMS. (please see additional disclosures)
Background – EV Company Created Nov 2020 – SPAC signed Dec 2020
Electric Last Mile Solutions (ELMS:Nasdaq) is an electric vehicle company that announced plans to go public via a SPAC less than ONE MONTH after the company was first registered as a corporation.
November 12, 2020 – ELMS was first registered in Delaware as a company.
December 11, 2020 – ELMS announced signing a deal to go public via SPAC & 30,000 supposed pre-orders.
ELMS was not created completely out of thin air. Its background really lies in the remains of a different failed Chinese EV start-up known as SERES/SF Motors.
SERES was a Chinese-backed EV start-up that purchased the Mishawaka, Indiana GM factory back in 2017. They planned to build EVs from primarily US parts and materials. But by July 2019, SERES had already announced they were halting production and announced large layoffs. Formers employees told us that in 2020 the parent company was intending to take a large write-down on the factory's asset value.
SERES co-CEO in mid-2020 that was none other than James Taylor. The co-founder of ELMS that just resigned.
Instead of writing off the factory we believe that James Taylor and Jason Luo created ELMS and then immediately bought the GM factory from SERES (for a higher price than SERES paid).
ELMS managed to come public at a $1.4 billion valuation.
Without any proprietary technology
A factory they overpaid for from the CEOs former company
And a marketing deck promising to sell "Made-in-USA Commercial EVs"
"Production" is actually a Photoshop Job = Importing Chinese EVs then Changing the Logo
We believe that ELMS has falsely claimed that their vehicles are "produced" and "manufactured" in the USA:
ELMS claims to investors & customers include:
"Producing" the Urban Delivery at the Mishawaka, Indiana Facility
"Built" & "manufactured" in Mishawaka, Indiana
Reality = Made & Assembled in China!
ELMS's Innovative Urban Delivery Vehicle is really a Wuling New Energy Cargo Van – EV50 (G100 series) which is currently available for sale starting for $13,500 (a ~60% discount to ELMS US price). ELMS appears to be misleading both investors and customers and is actually importing fully built EVs from China.
The imported vehicles that arrive from China and are already assembled and include both the essential EV parts: Motors, Batteries, Chassis but even the doors, windows, etc.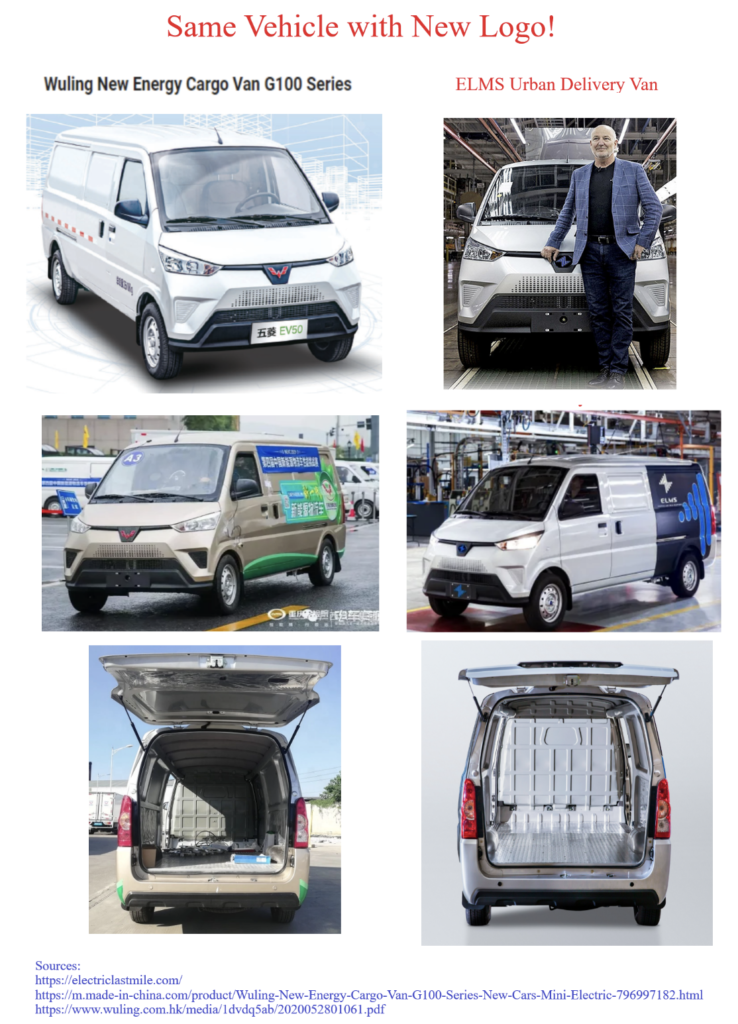 Import-Export records reveal the truth!
The bills of lading for ELMS tell the truth that ELMS management is trying to obscure. ELMS is importing fully assembled Chinese vehicles and misleading their customers by saying they were "Made in the USA" or "Produced in Mishawaka, Indiana."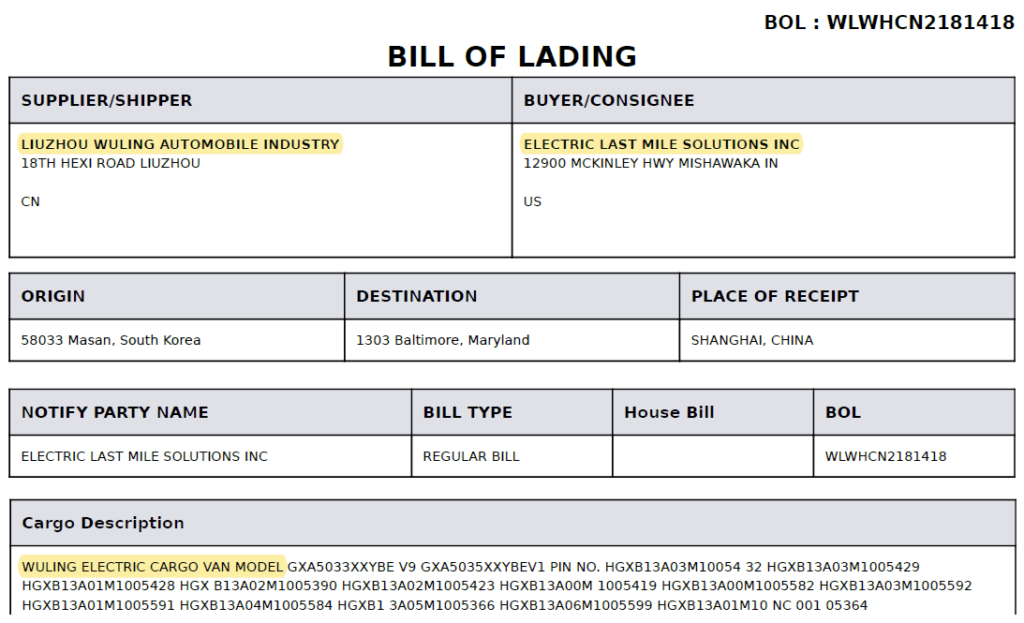 The weight of the vehicles is the same!
The average of all the 385 Wuling Electric Cargo Vans imported by ELMS in 2021 (see appendix B import records) happens to be 1422 kg per vehicle or 3,135 LBS.
The curb weight of the ELMS Urban Delivery Vehicle = 3,133 LBS!
The specs are also the same!
The lack of assembly or modifications by ELMS is also shown by the fact that Wuling's EV50 had the same specs as the ELMS Urban Delivery Vehicle.
Power – 60kw
Battery Capacity & Producer – 42kw CATL
Range – 150 miles of range (link)
ELMS Utility Vehicle turns out is actually SAIC's Yuejin EV Light Truck with an ELMS logo.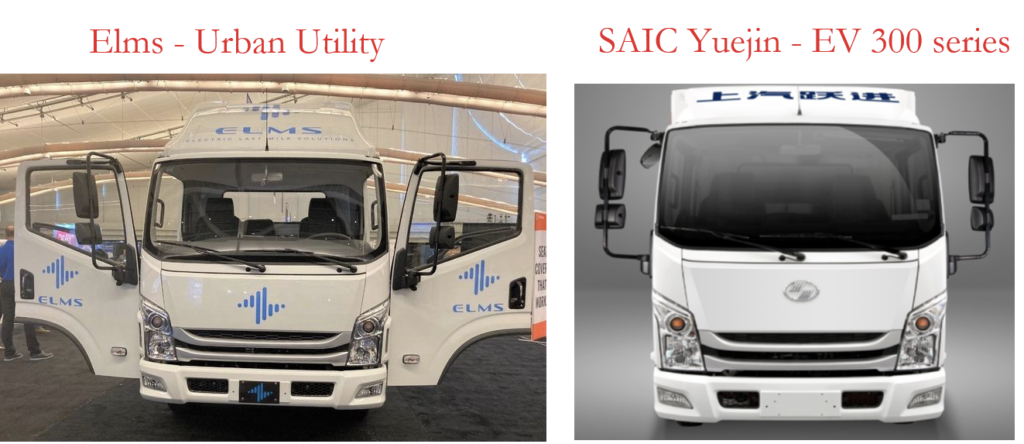 Import-Export records once again confirm that the ELMS Urban Utility is coming direct from China as a fully built vehicles. The Urban Utility vehicles that ELMS recently revealed was actually manufactured and assembled by SAIC Yuejin.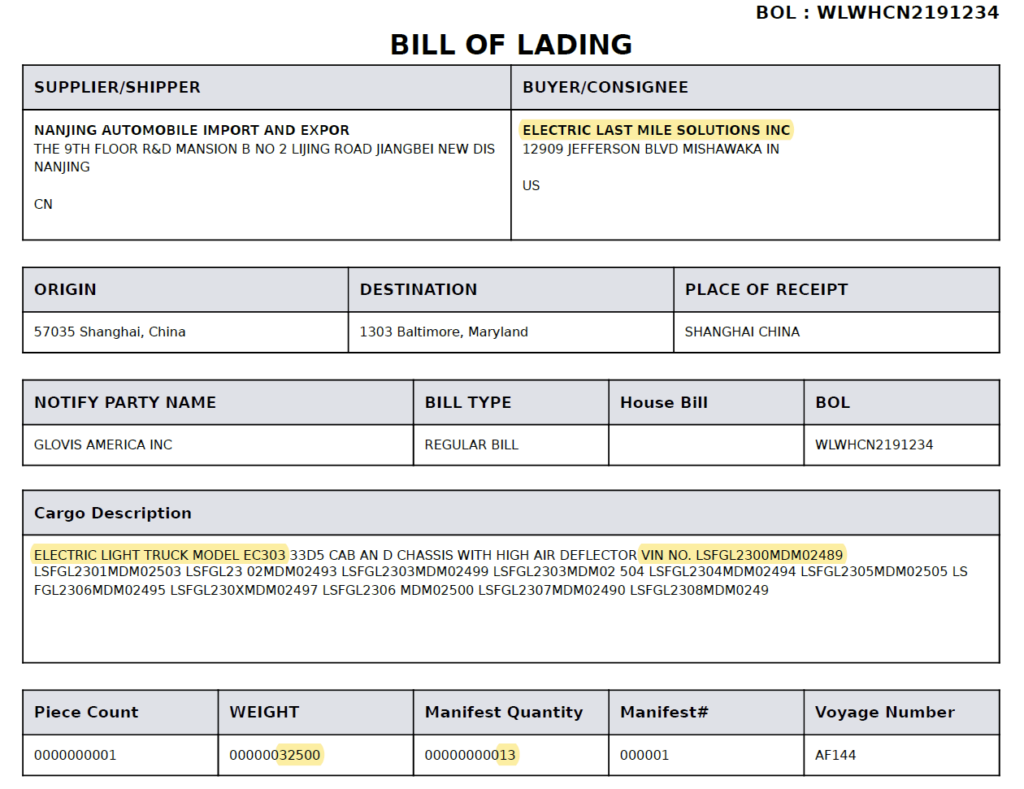 ELMS Factory Visit = Adding Logos & Empty Parking Lots
We visited the ELMS factory at 12900 McKinley Highway, Mishawaka, Indiana multiple times during the middle of the workday in January 2021 to see if there was a chance that import-export records were incorrect and that ELMS was actually "manufacturing" or "producing" any vehicles on-site.
We found a multitude of ELMS Urban Delivery & Urban Utility vehicles that import-export records indicate were likely recently imported from China laying around.
The only identifiable difference we could see between what ELMS is considering "pre-production" & "post-production" vehicles. ELMS logo had been added.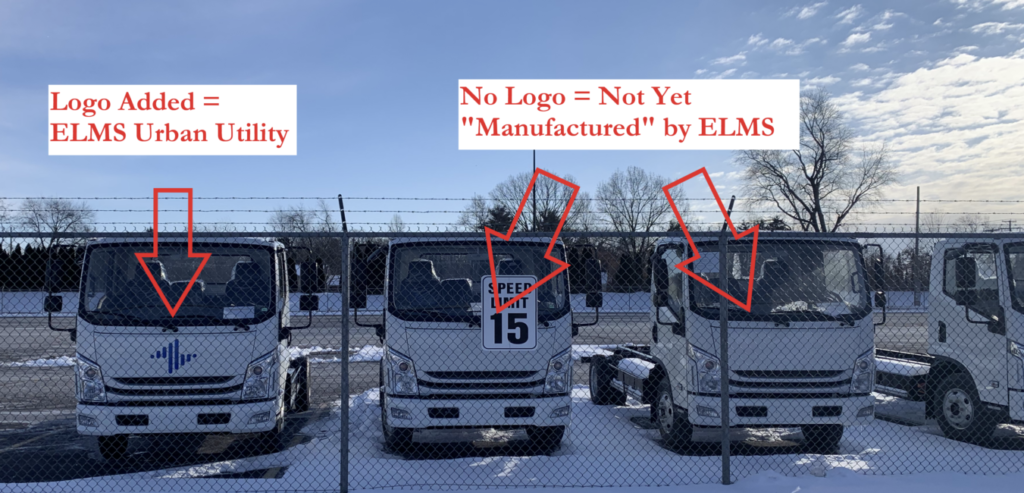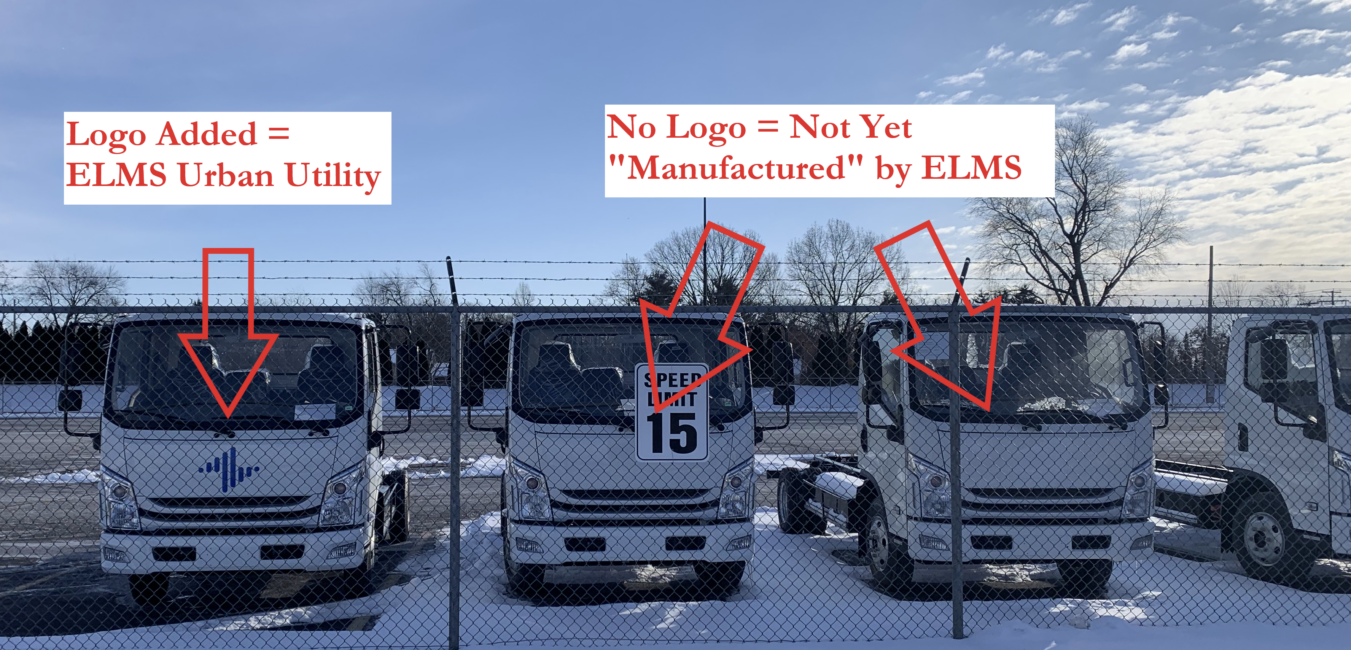 Empty Parking Lot = No Actual Production
During the middle of one weekday, we discovered a total of just 13 vehicles in the ELMS employee parking lot. The most we saw in any visit was ~35 vehicles another trip. This is the same ELMS factory that is supposed to be producing 300-500 vehicles in Q4-2021.
We asked workers "how many assembly line workers were there currently?" they replied:
"Well let me say there are a lot of bosses but not many workers."
LinkedIn records indicate there are only 16 ELMS employees in that South Bend area.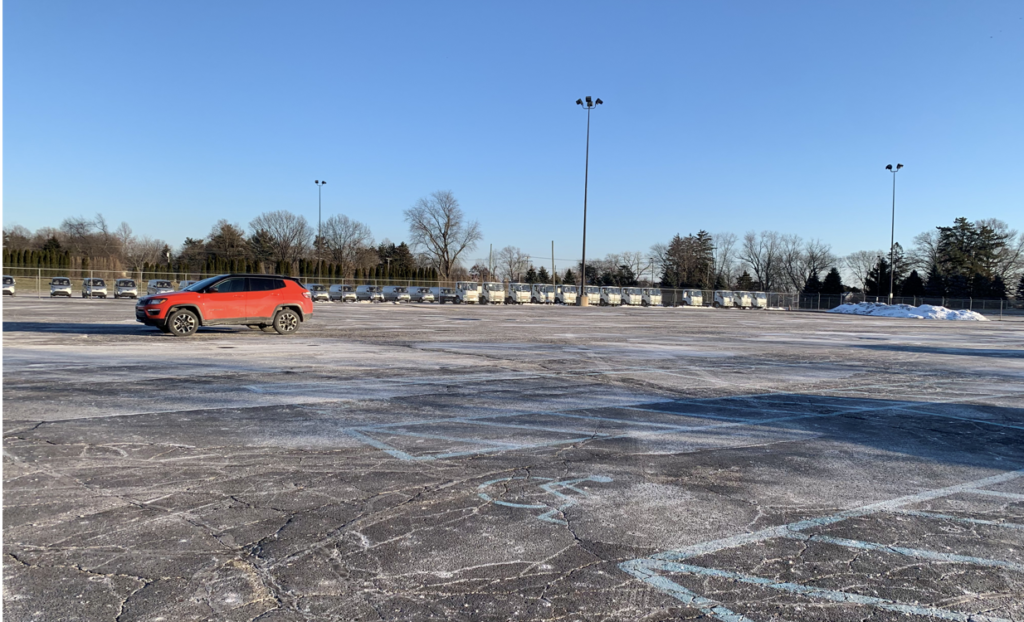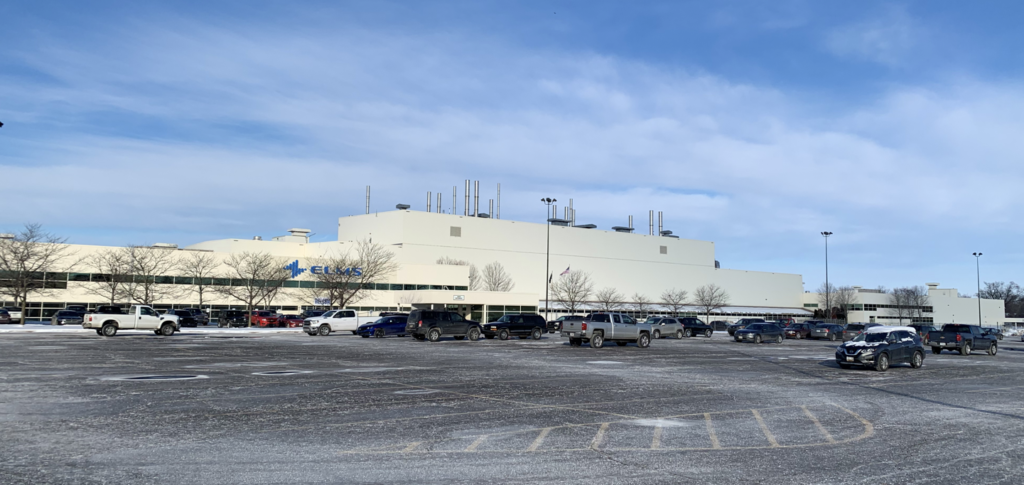 Returnable 1 year later is "Not Revenue" – Randy Marion Deal Revealed:
ELMS claims to be one the first of the new SPACtacular EV companies to generate revenue. They booked their first revenue and deliveries in Q3-2021. We discovered that the imported Chinese vehicles have actually been "sold" via an agreement that according to GAAP should be considered CONSIGNMENT which should NOT be booked as revenue.
ELMS 1,000 "binding" orders from Randy Marion Automotive are actually all returnable.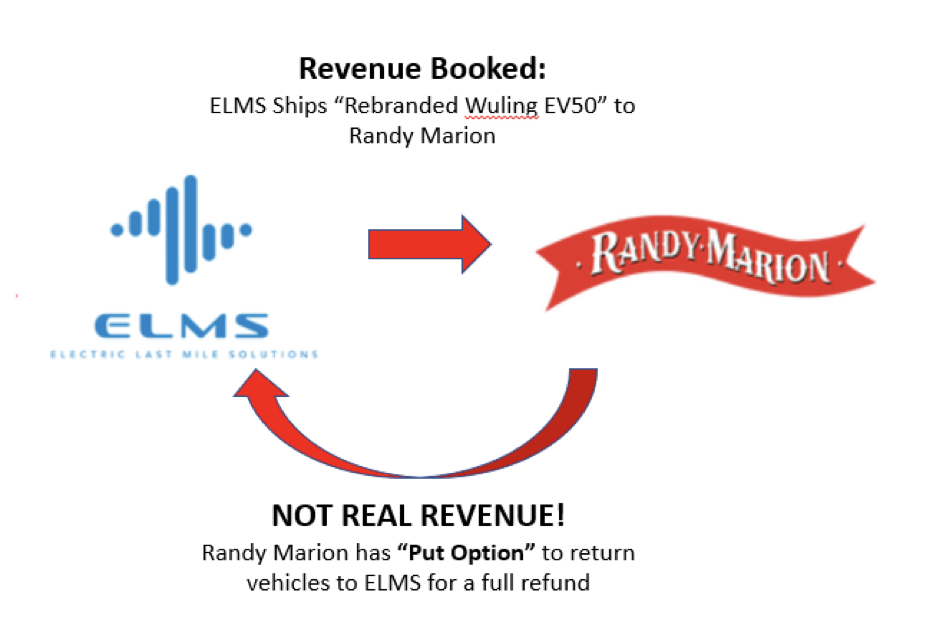 The Buyer Put Right – Returnable 1 year later!
According to ELMS' order agreement with used and new car dealer Randy Marion Automotive Group, all the vehicles ELMS has "sold" to them are actually eligible for return via a "Buyer Put Right." Thus, Randy Marion is able to return any unsold inventory to ELMS (pg 5).

SEC reports also show ELMS did not yet receive any cash from the Q3 booked sales. Their reported accounts receivable exactly match the Q3 reported revenue. This further shows that Randy Marion does not even need to outlay any cash for the vehicles despite taking delivery.
ELMS CFO Leaves in first 5 months:
ELMS former CFO, Albert Li, left less than 5 months after the company went public. Notably he left right before the Q3-2021 results so this long-time experienced CFO was not the CFO that signed off on ELMS first revenue reports.
Mass Exodus in C-Suite – CTO & GC also resign in November 2021; CEO & Chairman Feb 1, 2022
ELMS founding CTO – Kev Adjemian and the General Counsel & Chief Legal Officer – Benjamin Wu both left the company November 2021. All of these C-suite exits coincide with ELMS decision to start "booking" revenue from the Randy Marion shuffle.
Did the former CFO, CTO, and GC know something that the market still hasn't priced in?
Now with the announcement of ELMS co-founders (CEO & Chairman) "resigning" after the results of the Special Committee's Investigation this is the current state of the founding management team that took ELMS public in June 2021.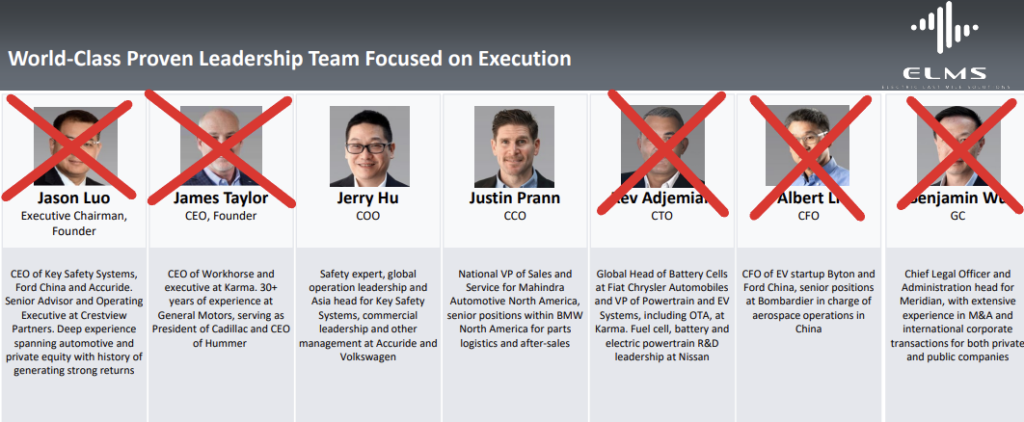 Factory Purchase = Bailing Out the Chinese Company ELMS CEO Ran!
We suspect ELMS bought their Mishawaka factory to bail out the company that ELMS founder and CEO was running right before creating ELMS. The factory was shut down when ELMS bought it. Multiple employees described SERES (owned by Sokon) as being stuck with the factory.
Yet, ELMS decided to pay 50% more than the factory cost the previous owner SERES.
"SERES [SF Motors] had shut down the team and were stuck with that factory…It would have been pretty bad if SERES had to write-down the factory. Their stock would've taken a massive hit."

Former SERES/SF Motors employee
SERES initially bought the plant for $110 million invested and ~$15 million in capex for retooling. SERES announced they were halting production back in July 2019. Yet ELMS decided to purchase the Mishawaka Factory for $197.6 million.

Is sending SPAC IPO proceeds back to the CEO's former company self-dealing?
This factory purchase price only makes sense when you understand who ELMS CEO was buying the factory from. Instead of negotiating a great deal for the ELMS shareholders James (Jim) Taylor, CEO, who was just fired, decided to pay more than the factory had cost to SERES…for a scraped factory.
Why would Jim do this?
Because right before founding ELMS Jim Taylor was the CEO of SERES!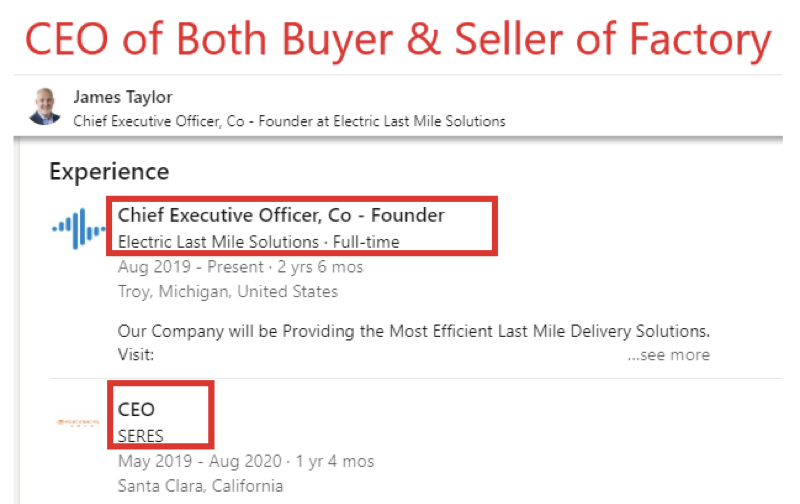 James Taylor's first move as ELMS CEO was to commit a significant amount of his investor's capital to buy a factory from his former company and keep them from writing off an idled factory. We spoke with a former GM colleague of Jim's to see if a horrible related party deal was something he was likely to execute.
To pay a massive premium for a scrapped factory you would need to either be a horrible businessman or a puppet for your former company. Turns out Jim is both.
"Jim was a nice guy, but a colossal idiot."

Former GM Executive & colleague of Jim Taylor
Glassdoor reviews at SERES are even less kind to Jim than the employees we spoke with:
[SERES] current US CEO, [James Taylor], is a washed out (failure) from another Chinese funded train wreck, Karma Auto. He acts mostly as a puppet for the Chairman.

Glassdoor Employee Review (link)
Capital Raise Needed ASAP – Less than 5 Months Cash Actually Remaining
We believe ELMS needs to raise more capital immediately. If they don't raise additional capital, we estimate they will run out of cash within the next 5 months.
ELMS has a significant remaining liability for the purchase of the factory that should amount to $70.5 million as of the end of Q4. If ELMS does not pay SERES of fulfill their contract obligations to them than SERES actually has the right to evict ELMS from the Facility and retain all payments made thereunder.
With the firing resigning of the CEO and Chairman new management estimated ELMS cash balance to be $132 to $142 million as of 12-31-2021. The cash crunch is initially obscured by is the fact that ELMS is slowly paying down the overpriced factory they acquired and the rest of those payments fall over the next 15 months and are due by 4-30-2023. The SERES factory payments currently amount to $4.5m per month.
Thus, excluding the factory payment liability ELMS really only has ~$66.4m or ~$0.56 per share as of 12-31-2021 and since ELMS is currently burning an estimated $11.25m per month that puts them at ~$55m or $0.47 today.
As of 1-31-2022 we believe ELMS only has ~4.9 months of cash remaining.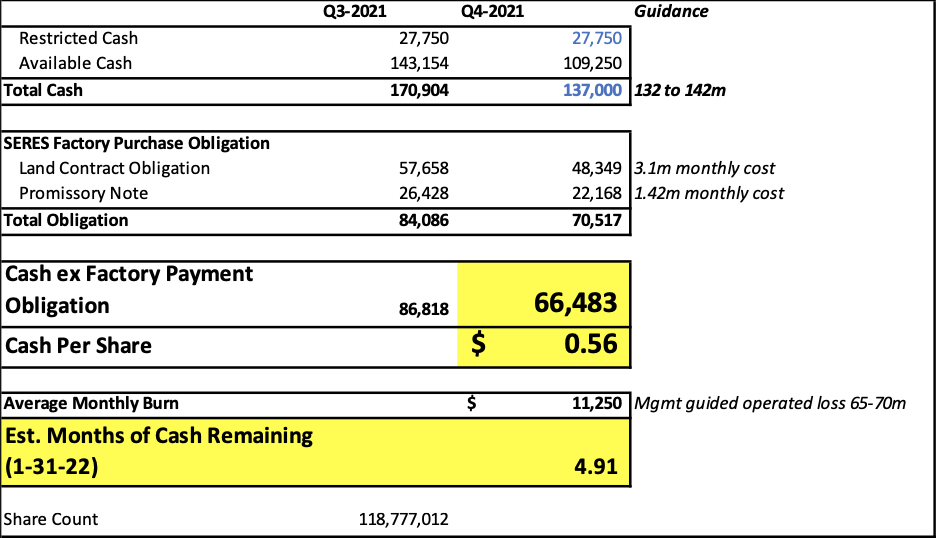 Pilot Customer Reviews = "An Overpriced Golf Cart"
We've spoken with multiple of ELMS customers who "piloted" the ELMS Urban Delivery Vehicle for FREE. They all decided to RETURN the vehicles without placing an order.
Michigan State University (MSU) – Free pilot concluded & no order placed:
MSU did a pilot in Dec 2021 which was announced to much fanfare. MSU administrators we spoke with said the vehicle ran fine but they didn't order it because the ELMS Urban Delivery performance was only slightly better operationally than MSU's current EV golf-carts but ELMS's vehicles were too expensive.
"We had the [Urban Delivery] for over a month…it was pretty much a slight upgrade from our golf-carts…when comparing the [ELMS] vs our golf carts. It just didn't make sense to order at that price point."

MSU Facilities Director
Notre Dame – Free pilot concluded & no order placed:
Notre Dame announced their ELMS pilot back in the Summer of 2021. Notre Dame also did a free pilot of 1 ELMS Urban Delivery vehicle in multiple departments and the pilot lasted until Thanksgiving, so about two months. Representatives we spoke with said that Notre Dame still haven't placed an order and that they would at least need to do additional testing in the winter before considering ordering.
Interestingly Notre Dame representatives were completely unaware that ELMS was importing Chinese vehicles. When asked about ELMS repackaging a Chinese made EV administrators informed us that Notre Dame has strict university level ban AGAINST buying "made in China products" due to Chinese labor practices. Administrators informed us that "Notre Dame doesn't purchase things that are manufactured in China, as much as we can avoid it. This is a university level policy."
Salesmen also think the vehicle is most comparable to a "Golf Cart."
When we asked a Randy Marion salesman how the vehicle performs in the field. They told us:
It feels like a souped-up golf-cart

Randy Marion Salesman – Jim – Call Jan 2022
Even the spokesman for Randy Marion Automotive during his test drive for advertising the vehicle exclaims:
"It's topping out at 20 miles per hour, that's full throttle…it drives basically like a golf-cart."

Randy Marion Salesman (video review)
Demand Problem ~ 250 sitting available on Randy Marion's lot today:
Virtually every other EV manufacturer has long backlogs and no inventory available for sale, let alone a significant amount of inventory sitting around available for sale on a lot.
However, sales reps at Randy Marion (the only authorized ELMS dealer) told us in January 2022 that they currently have ~250 available on their lot today.
"We've got like 250 of them on our lot right now, we got a lot of them on our lot and they [ELMS] just ship to us and they just produce them and ship them direct to our lot."

Randy Marion Salesmen Jim – Jan 2022
Only other announced pilots/orders:
Glovis – pilot – Glovis announced a pilot of ELMS Urban Delivery & Utility vehicles. Glovis happens to be ELMS's paid logistic provider and are listed on many of the import records as ELMS's notifying party.
Zeeba Rentals – order – 2.3 star van rental agency that doesn't have a working website. They have evidently placed an order for 50 vehicles
Conclusion:
ELMS is an EV pretender formed just 1 month before it announced going public. The company has no competitive advantage, no technological advantage, and is running low on cash. The hype driven management that took the company public 6 months ago (CEO, CFO, CTO, Chairman, GC) have now all jumped ship.
We believe ELMS is destined to fail:
Their vehicles are made and assembled in China, not "manufactured" in the USA.
The factory was purchased at a ridiculously high price which bailed out ELMS' CEO's former Chinese company.
Reported revenue is actually returnable and improperly booked.
Product is an "overpriced golf cart".
There is little to no demand and pilot customers aren't ordering.
If you are an investor, you and really wanted to invest in class 1 EV vehicles then you could even buy Wuling Automotive's stock (0305.HK or WLMTF) at a 26x P/E and a 15% lower market cap.
If you are a potential ELMS customer you can import the very same electric vehicles 50% cheaper directly from Wuling Automotive or Yuejin (starting at $13,500).
ELMS was founded by another former Workhorse CEO and we think ELMS will end up the same way as both Lordstown and Workhorse. The company is embroiled in regulatory investigations; job opportunities for hardworking Midwesterners lost; and the stock down >80%.
We are short ELMS.
---
Appendix A: Unbelievable Pre-Order Book – Following the Lordstown Motors Playbook:
ELMS followed the Lordstown Motors pre-orders playbook and began announcing impossibly high pre-order numbers straight out of the gate. ELMS magical pre-order numbers make more sense once you realize the CEO, James Taylor's, connection to Lordstown Motors management team. Lordstown is under DOJ and SEC investigation for creating fake pre-orders.
James Taylor, ELMS CEO, was chairman of Workhorse Group while Steve Burns was WKHS CEO. (10-k pg 27). Not only is Steve Burns the disgraced former CEO of Lordstown Motors but the whole WKHS management team under James Taylor at that time (CFO, CEO, President) went on to run Lordstown Motors.

ELMS 45,000 "non-binding" Pre-order History:
Cagey about disclosing customers:
When we have spoken with ELMS employees and management and asked who these mysterious pre-orders were from and how ELMS was able to generate large orders so quickly. ELMS management quickly changed the subject without providing any answers.
Some of ELMS "pre-order customers" or "customers in discussion" from their investor presentation or highlighted on social media share some of the exact same "non-fleet customers" for Lordstown Motors.
All of these companies are fleet brokers so don't directly purchase vehicles.

Note – We do not believe ELMS have done anything "illegal" regarding pre-orders as ELMS were able to legally cover their bases in terms of describing the orders as "non-binding" and "cancelable." Regarding pre-orders they have effectively stayed in the "grey area".
Where regulators might have found that ELMS crossed the line into illegal territory is regarding their "binding orders" and "revenue recognition" with Randy Marion Automotive.
Appendix B – Import-Export Records
Import-export records show that thus far ELMS have imported an estimated 385 Urban Delivery Vans in 2021 and another 20 in 2022. The average weight of the 2021 imported vehicles is 3,135lbs which happens to be almost the exact weight of the ELMS Urban Delivery Vehicle according to the company's specs.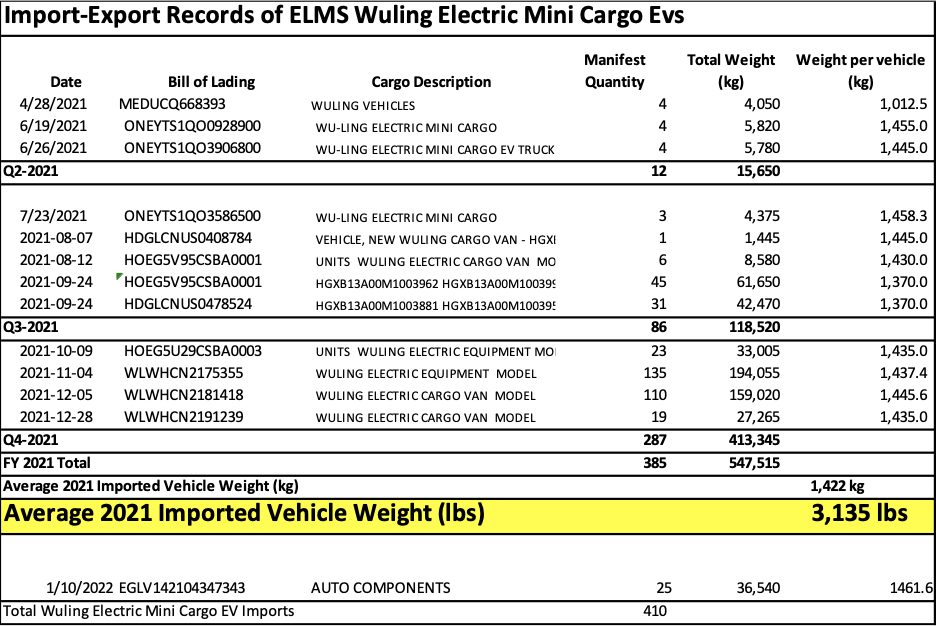 ELMS has imported 23 of the Yuejin Electric Light Trucks to date a.k.a. the ELMS Urban Utility Vehicle.

---
Disclaimer & Terms of Service:
By downloading from or viewing material on this website and/or by reading this report, you agree to the following Terms of Service. You agree that use of the research on this website or report is at your own risk. In no event will you hold Fuzzy Panda or any affiliated party, including officers, directors, employees and agents of Fuzzy Panda or any companies affiliated with them, liable for any direct or indirect losses caused by any your use of information on this site. You further agree to do your own research and due diligence before making any investment decision with respect to securities covered herein. You represent that you have sufficient investment sophistication to critically assess the information, analysis and opinion on this site or in this report. You further agree that you will not communicate the contents of reports and other materials on this site to any other person unless that person has agreed to be bound by these same terms of service. If you download or receive the contents of reports or other materials on this site as an agent for any other person, you are binding your principal to these same Terms of Service.
You should assume that as of the publication date of their reports and research, Fuzzy Panda and possibly any companies affiliated with them and their members, partners, employees, consultants, clients and/or investors (the "Fuzzy Panda Affiliates") have a short position in all stocks (and/or options, swaps, and other derivatives related to the stock) and bonds of companies covered in such reports and research. They therefore stand to realize significant gains in the event that the prices of either equity or debt securities of the subject companies decline. Fuzzy Panda and the Fuzzy Panda Affiliates intend to continue transactions in the securities of issuers covered on this site for an indefinite period after their first report on a subject company, and they may be short, neutral, or long at any time hereafter regardless of initial position and the views stated in Fuzzy Panda' research. Fuzzy Panda will not update any report or information on this website to reflect such positions or changes in such positions.
This is not an offer to sell or a solicitation of an offer to buy any security, nor shall Fuzzy Panda offer, sell or buy any security to or from any person through this site or reports on this site. Fuzzy Panda and the Fuzzy Panda Affiliates do not render investment advice to anyone unless they have an investment adviser-client relationship with that person evidenced in writing. You understand and agree that Fuzzy Panda does not have any investment advisory relationship with you or fiduciary duties to you. Giving investment advice requires knowledge of your financial situation, investment objectives, and risk tolerance, and Fuzzy Panda has no such knowledge about you.
If you are in the United Kingdom, you confirm that you are accessing research and materials as or on behalf of: (a) an investment professional falling within Article 19 of the Financial Services and Markets Act 2000 (Financial Promotion) Order 2005 (the "FPO"); or (b) high net worth entity falling within Article 49 of the FPO.
Fuzzy Panda's research and reports express their opinions, which are based upon generally available information, field and online research, and inferences and deductions through due diligence and the analytical process. To the best of their ability and belief, all information contained in their reports is accurate and reliable, and has been obtained from public sources believed to be accurate and reliable, and they have not obtained information from persons who are insiders or connected persons of the stock covered or who may otherwise owe any fiduciary duty or duty of confidentiality to the issuer. However, such information is presented "as is," without warranty of any kind, whether express or implied. Fuzzy Panda makes no representation, express or implied, as to the accuracy, timeliness, or completeness of any such information or with regard to the results to be obtained from its use. Further, any report on this site contains a very large measure of analysis and opinion. All expressions of opinion and conclusions are subject to change without notice, and Fuzzy Panda does not undertake to update or supplement any reports or any of the information, analysis and opinion contained in them.
You agree that the expressions of information in this report are copyrighted and owned by Fuzzy Panda Research, and you therefore agree not to distribute this report or any excerpts from it (whether the downloaded file, copies / images / reproductions, or the link to these files) in any manner other than by providing the following link: www.fuzzypandaresearch.com. If you have obtained Fuzzy Panda's research in any manner other than by downloading from that link, you may not read such research without going to that link and agreeing to the Terms of Service. You further agree that any dispute between you and Fuzzy Panda and their affiliates arising from or related to the material on their website shall be governed by the laws of the State of California, without regard to any conflict of law provisions. You knowingly and independently agree to submit to the personal and exclusive jurisdiction of the state and federal courts located in California and waive your right to any other jurisdiction or applicable law. The failure of Fuzzy Panda to exercise or enforce any right or provision of these Terms of Service shall not constitute a waiver of this right or provision. If any provision of these Terms of Service is found by a court of competent jurisdiction to be invalid, the parties nevertheless agree that the court should endeavor to give effect to the parties' intentions as reflected in the provision and rule that the other provisions of these Terms of Service remain in full force and effect, in particular as to this governing law and jurisdiction provision. You agree that regardless of any statute or law to the contrary, any claim or cause of action arising out of or related to this report or the material on this website must be filed within one (1) year after such claim or cause of action arose or be forever barred.