Richard F. Dauch – CEO
Workhorse Group
100 Commerce Dr.
Loveland Ohio 45140
Delivered via USPS mail and via email: August 31, 2021
Dear Richard,
Congrats on your new role as CEO of Workhorse Group. You've executed some successful turn-arounds in the past but we applaud you for taking on this incredible challenge.
Hopefully, the Board and out-going CEO, Duane Hughes, have informed you that Workhorse is currently under an "Active and Ongoing Investigation by the SEC's Division of Enforcement" even though they have elected to not disclosed it to shareholders. If not, then we regret being the first to tell you.
We were quite surprised you told investors "our backlog is real" and stands at "nearly 8,000 confirmed vehicle orders." You have likely now uncovered that those statements are completely false. The reality is management copied their former founder, Steve Burns', Fake Pre-Order Playbook from Lordstown Motors Not only do Workhorse's orders have no deposits nor actual purchase requirements but in our attached report, you will discover the order book largely of Fictious and Unrealistic Orders, including:
Undisclosed Related Parties: spoiler alert, we visited these related parties HQs – they don't exist.
Potential Revenue Recognition Fraud: customers received trucks AFTER Workhorse booked the revenue indicating potential revenue recognition fraud.
Egregious Orders from Used Truck Dealerships – Orders for >1000% of total inventory?
Blue Chip Customers have Abandoned WKHS – FedEx calls you an "Unreliable EV Manufacturer" in a government study…yet WKHS calls FedEx a "Blue Chip Customer"
How many trucks are actually operating? You claimed 381 still are on the road. We've discovered:
Many UPS Trucks Have Broken Down & Been Scraped: In Atlanta, UPS HQ's, >90% are out of service. Drivers told us the trucks were "garbage."
The new C-1000 EV's are performing even worse and probably require a complete platform redesign. The EVs broke down within the first 6 months, multiple times! We interviewed IKEA managers, the logistics company's employees, and truck drivers and discovered major product failures in the C-1000:
Unable to drive on highways – battery dies too quickly at >50mph
Motor lacks the power to go up hills
Safety issues – front tires hit the frame & smoke when loaded, axles breaking, false load limit, etc
Btw, Workhorse is also set to breach its debt covenants. At the latest in 7 months, regarding the min "Backlog Sales" covenant of >$25 million and likely sooner regarding breaching your covenant for a material breach in "representations & warranties." Also, the Lordstown Equity and cash proceeds (~$100 million) is actually in an SPV completely controlled by the debt holders and not accessible for you to use.
Please give up the NGDV charade. Workhorse lost the USPS NGDV bid because their prototypes kept breaking – 117 times in fact. Workhorse actually managed to come in LAST PLACE. The USPS has also confirmed that 2 other EV prototypes beat Workhorse's EV. America deserves a #1 supplier for the USPS, not last place.
We are betting against you and are Short Workhorse.
Sincerely,
Fuzzy Panda Research
Workhorse Group: Active SEC Investigation + Fake Orders + Lost to Two Other EVs in USPS Bid + New EVs Already Breaking Down = Glue Factory for Workhorse
Active SEC Investigation Uncovered;
Revenue Recognition Fraud Indicated by Customer;
Fake Order Book with Orders from Undisclosed Related Parties; Used Truck Salesmen with Egregious Orders; Customers Whose HQ's Don't Exist (we have the pictures);
Former Customers UPS & FedEx Have Abandoned WKHS & Their Trucks (Government Studies Prove it)
New C-1000 EV's Don't "Work" – Drivers Complain They Can't Drive on Freeways or Even Up Hills.
Last Place in USPS NGDV Race; 2 Other EV Prototypes Submitted and Both Beat Workhorse's
Workhorse touts itself as the oldest EV truck maker with the most hybrid & electric trucks on the road. In reality, most of the trucks they've shipped have broken down and been abandoned.
We will reveal that the WKHS C-1000 EV trucks delivered in Q4 2020 have already broken down.
UPS's E-Gen trucks (WKHS's largest customer) are less than 6 years old yet we discovered that a substantial number are broken down and have been abandoned.
All of Workhorse's heralded fleet customers, like UPS and FedEx have long since moved on to Arrival, Rivian, GM's BrightDrop, and other competitors.
As a result, Workhorse has attempted to replicate the Lordstown Motors "Fake Order" Playbook: creating spurious deals with suspect partners to try to trick investors into thinking WKHS has a healthy sales funnel and that it's at the start of exponential growth. The reality is that the orders are non-binding partnerships at their best, and fake orders and fraudulent at their worst.
Our research over the last year discovered:
An active, ongoing, undisclosed SEC INVESTIGATION into Workhorse Group.
Workhorse might have committed Revenue Recognition Fraud according to a key customer.
Undisclosed related party transactions.
Suspect customers with no prior websites or industry experience that were created 1 month before Workhorse announced an order. When we visited the customers HQ's DID NOT exist.
Workhorse's C-1000 EVsdelivered in December 2020 are already breaking down and need to be redesigned.

Unable to drive on the freeway because the battery drains too quickly;
Lacks the power to drive up hills (with 1 getting stuck and abandoned on a hill);
Drivers us the Workhorse EV's "Ain't no good…stay away from them f—king things;" IKEA managers openly called the EV's "Pieces of Shit."

UPS E-Gen trucks have also been abandoned and drivers called them "Garbage"

Two former C-Suite Workhorse executives confirmed a significant number of their UPS trucks are no longer on the road.
We visited major UPS depots in Atlanta (where the largest # of E-Gens were deployed) and discovered that >90% of the WKHS trucks had been scrapped!

Two previously unknown, multi-year DOE studies of Workhorse products also confirm the horrible product quality. The results:

FedEx-DOE Study found that Workhorse is an "unreliable" OEM
UPS-DOE Study found that Workhorse "trucks were broken ~50% of the time."

Workhorse admits to getting LAST PLACE in the USPS Next Generation Delivery Vehicle (NGDV) contract bidding.
USPS received Three EV prototype submissions contrary to WKHS's misleading statements
Workhorse initially lost the NGDV bid because they:

Cheated to pass required USPS NGDV tests
Had the most critical vehicle failures of all the prototypes submitted.
Injured a USPS employee – WKHS's own legal filings confirm the runaway truck story we first reported

Workhorse is set to default on their $200m loan. Default could be declared any day due to rep & warranty violations but will occur by March 31, 2022 at the latest. They will trip a minimum firm order book & minimum sales covenants. WKHS has pledged all their IP and even their Lordstown Motors equity stake as collateral which we expect to go to the debt holders.
We are Short Workhorse Group.
Please see additional disclosures at end of report and our terms of service.
Active SEC Investigation of Workhorse Group:
Workhorse just announced a new CEO, Richard Dauch. Hopefully the Board and former CEO, Duane Hughes informed him about the SEC's active investigation of Workhorsebefore he accepted the job.
We requested the SEC documents regarding investigations into Workhorse via FOIA. Their reply to our FOIA and to our subsequent appeal confirmed an SEC Enforcement investigation: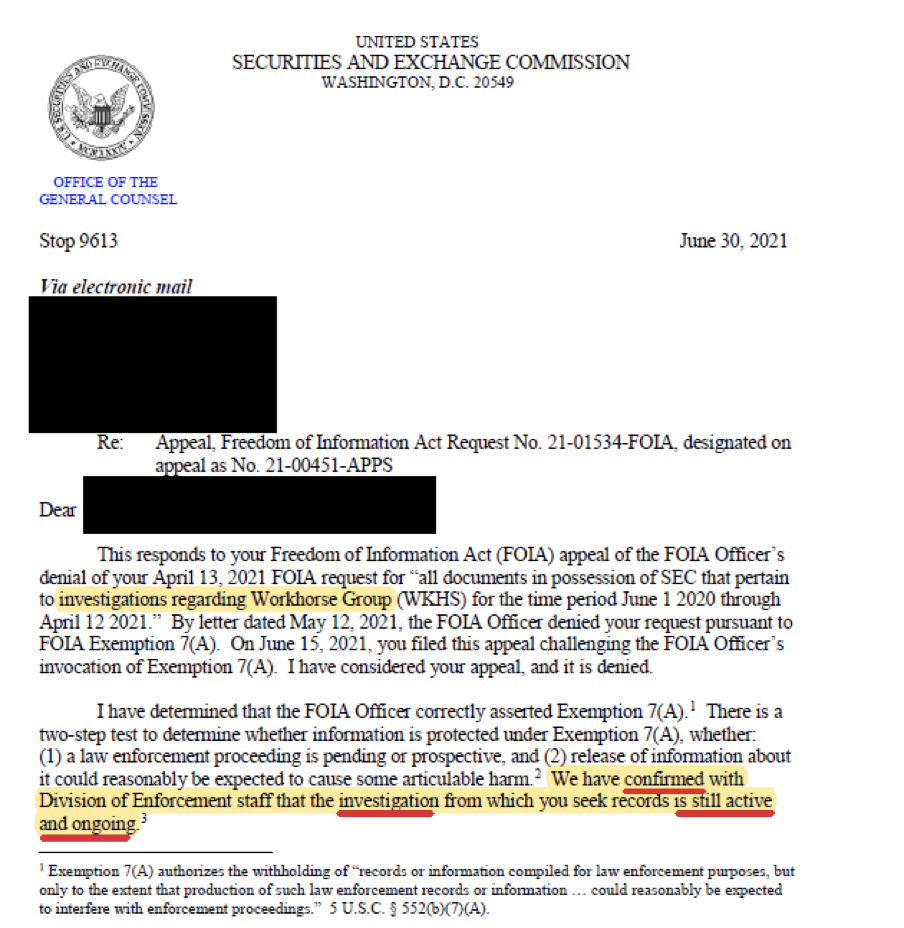 This investigation is a brand-new development. When we FOIA'ed the SEC at the end of November 2020 there were no records of any investigation into WKHS. Also, to ensure we would not get a false positive from the Lordstown Motors investigation we specifically requested records relating to only investigations into Workhorse and asked them to exclude any records and documents related to the RIDE investigation.
The SEC responded to our FOIA request for documents regarding an SEC investigation into Workhorse Group saying that they were with-holding records under exemption 7(a). The SEC uses the 7(a) exemption when revealing records that would "interfere with law enforcement proceedings." We appealed the 7a) exemption and our appeal was denied with the SEC confirming the "active and ongoing" investigation.
Why did both Workhorse's General Counsel and VP of Finance resign on Aug 4th? Was it because Workhorse refuses to disclose the active SEC investigation?
Background: Zero New Orders & Zero Sales in Over 1 Year Leads Workhorse to Mimic the Lordstown Motors "Fake Order Playbook"
Summer of 2020 EV companies were booming and new ones were popping up with large plans to go public via SPACs. But Workhorse Group, one of the first public EV players had a big problem. Workhorse was running low on cash and would never be able to fulfill the USPS financial solvency requirements. Furthermore, Workhorse had:
ZERO new orders in over a year
Sold ZERO trucks since Q1-2019
Meanwhile, Workhorse's founding CEO, Steve Burns, was having great success fundraising for his spinoff, Lordstown Motors. Today Steve Burns and Lordstown are at the center of separate investigations by the SEC and DOJ after Hindenburg Research exposed that:
Former Workhorse senior employees told us that even after Steve left Workhorse that the CEO, Duane Hughes were close friends. Despite Duane having zero automotive experience Steve had hired him to be a senior executive at Workhorse. Steve and Duane's friendship goes back a long time to when they worked together in advertising sales at Gannett Media in the late 1990s.
"Steve & Duane are close buds. Duane refers to Steve Burns as a brother."

~Former C-Suite Workhorse Executive A
Duane must have decided to take a page from his "bro Steve's" fundraising play-book as Workhorse began announcing their own suspicious and fake orders.
Part 1 – Workhorse's "Fictitious Backlog" Includes:
Undisclosed Related Parties;
Companies Whose HQs Don't Exist;
Revenue Fraud Disclosed by Customer;
And Used Truck Dealers & Obvious Lies
Workhorse currently claims that their "order book" or "backlog" is >8000 trucks. In reality, almost all of Workhorse's major "orders" since 2019 are highly suspicious. Recent orders consist of:
An Undisclosed Related Party with a Fake Headquarters
Revenue Recognition Fraud – A Customer, a small truck dealership Pritchard, informed us Workhorse was misleading investors about the timing of recognized revenue
Fake Sized Orders from Used Truck Dealerships – Order by a used truck dealership (not fleet) that represents >1400% of their total current inventory
Broken down trucks – The only true customer in the order-book, Ikea (Fluid Trucks), has had their new WKHS EVs break-down multiple times.
We will show you what the SEC is likely investigating?
Customer Set Up One Month Before Their Order; Undisclosed Related Party Transaction; Missing Headquarters
Key Customer — eTrucks LLC — Formed 1 Month BEFORE Order; Had No Website Until 1 Month After
On July 23, 2020 Workhorse announced a purchase order for 20 trucks, its first major new truck order since early 2019. The order was placed by a customer called eTrucks LLC. eTrucks was incorporated only one month prior to this key "order." eTrucks didn't even register a website until a full month AFTER the order, based on Whois records.
But it gets worse!
eTrucks isn't even the Real eTrucks! It appears that it is named after a real company, possibly just to deceive investors. The real eTrucks is owned and operated by Axon Software, has existed since 2015, and owns etrucks.com.
eTrucks is actually a reseller, not a direct customer! eTrucks admits on their website that they are not planning on operating Workhorse trucks but instead are just a reseller/dealership selling trucks on contingency.
eTrucks LLC was formed by a failed entrepreneur. Its Registered Agent is a disgraced judge.
Brian Carr and George Parker (agent) are the duo listed as the "eTrucks" Directors.
Brian Carr, founder and COO of eTrucks, is a failed entrepreneur with no automotive experience that we know of.
George Parker's colorful past includes a stint as a disgraced municipal court judge. His law license was temporarily suspended after the Ohio Supreme Court found he committed >20 violations.
An Undisclosed Related Party – President of Workhorse's "Customer" is Actually on Workhorse's Payroll
Our research suggests that Workhorse's supposedly material, arms-length customer, eTrucks LLC, is also known as Electric Vehicle Fleet Services (EVFS). Even if this was a legitimate sale/order we believe management should have disclosed it as a related party due to one simple fact: EVFS' President was on Workhorse's Payroll!
eTrucks LLC's connections to Electric Vehicle Fleet Services (and their subsidiary EVCS) include: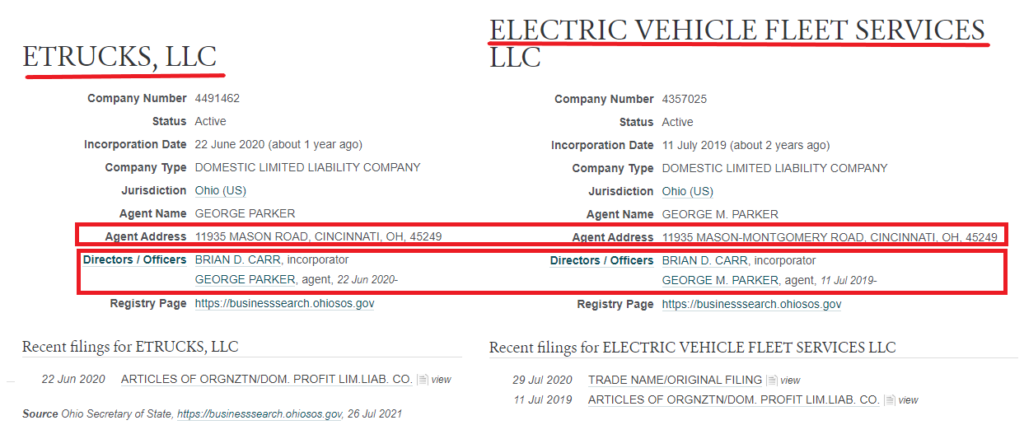 EVFS's President Daniel Fidanza was on Workhorse's payroll as an IT consultant when the "deals" occurred. Daniel's LinkedIn profile shows his employment at Workhorse but fails to mention his work for EVFS. It is highly suspicious to have your IT Consultant involved running brand new companies placing orders that haven't been fulfilled.
Workhorse told investors in their Q2-2020 conference call and press release that their sole customer that quarter was "Electric Vehicle Fleet Solutions." There is no actual company by this name so we believe Workhorse might have simply lost track of all the acronyms their "new partners" have. A more skeptical view would suggest this was all purposeful to confuse and mislead analysts and investors into thinking the partnership and sales were real. This questionable deal accounted for ~92% of Workhorse's Q2 2020 revenue.
We believe the SEC and investors will agree that this is an undisclosed related party transaction.
eTrucks & EVFS Are Both MISSING from their Own Headquarters!
Our investigator visited eTrucks and EV Fleet Services listed corporate addresses for their headquarters (11935 Mason-Montgomery Road, Cincinnati, Ohio 45249) and NEITHER Company was there!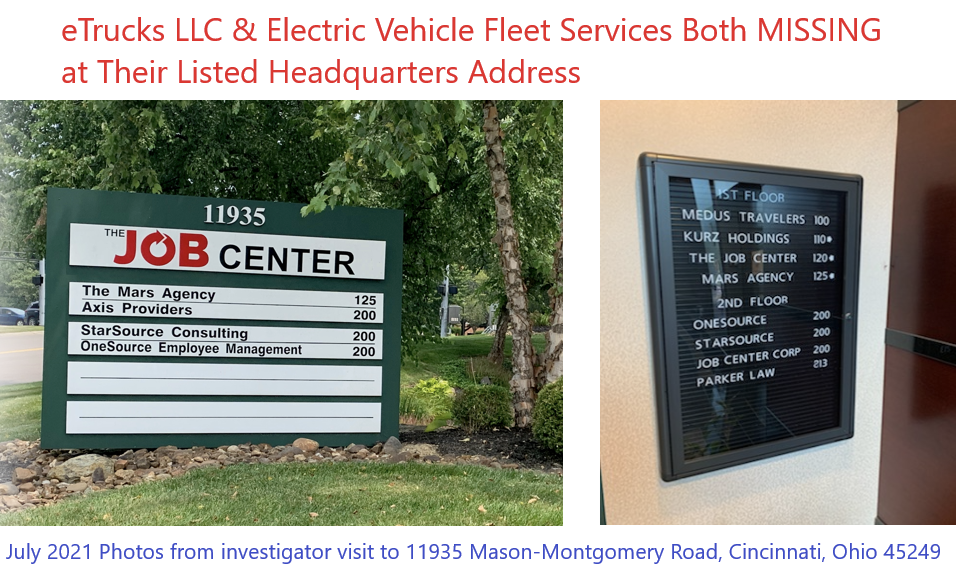 EVFS also currently lists a nearby second potential address on their website 11890 Montgomery Rd. Cincinnati, Ohio 45249. Our investigator visited that location too and found an empty and gutted building with no signs of EV Fleet Services.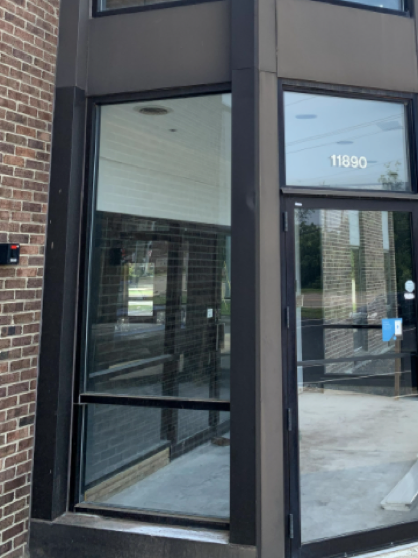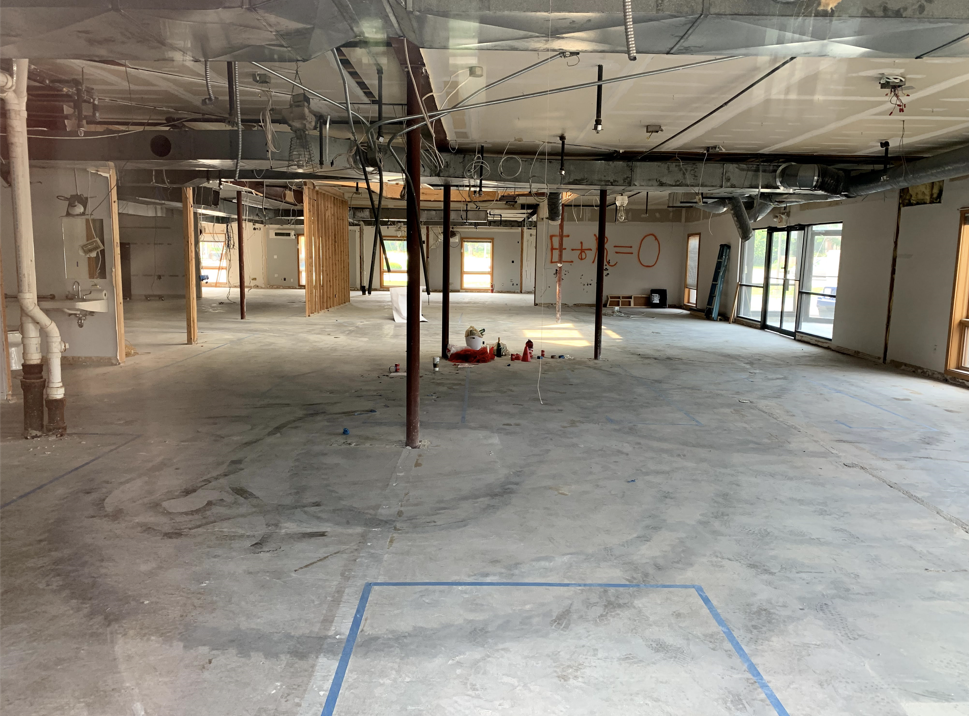 EV Fleet Services may have also misled the government in order to receive a PPP Loan for $350,000 (see appendix). We contacted EV Fleet Services and eTrucks LLC multiple times with questions before publishing and they refused to comment.
Accounting FRAUD Indicated by a Key Workhorse Customer – Pritchard Companies
Based on information provided by a key Workhorse customer, Pritchard Companies, we believe Workhorse could be charged with FRAUD for improperly recognizing revenue on the sale of trucks before delivery.
The Chief Revenue Officer at Pritchard EV, Ryan Pritchard, told us in two separate conversations that the first Workhorse truck Pritchard Co's received was in October 2020, the month AFTER Workhorse's Q3 2020 ended. Yet Workhorse reported ~$400k in revenue from Pritchard in the quarter ending September 30, 2020. The revenue in question amounted to ~70% of Workhorse's total revenue in Q3 2020. This suggests Workhorse committed Revenue Recognition FRAUD!
So in the third quarter, we had 7 deliveries. 5 went to Pritchard and then 2 were delivered to Ryder in the third quarter.

~Steve Schrader – CFO Workhorse Group

Workhorse Group Q3-2020 CC
The week of the announcement we called Pritchard posing as an interested customer and asked how they could possibly take eventual delivery of 500 new Workhorse trucks nearly (>12x their entire commercial inventory of 39 trucks). Ryan Pritchard surprised us and said that ZERO trucks had been delivered in the third quarter.
We contacted Ryan Pritchard on two separate occasions to get clarity on the orders, asking the basic question "When were the trucks delivered by Workhorse?"
Yep. They came mid-October.

~Ryan Pritchard – Call on 11-12-2020
During the December call with Ryan Pritchard our investigator asked him a similar line of questions, this time "on the record." Again, Pritchard confirmed that he received the trucks in October.
Investigator: When did you take delivery of those five trucks?

Ryan Pritchard: "In October…"

Investigator: You took delivery in October?

Ryan Pritchard: "Yes"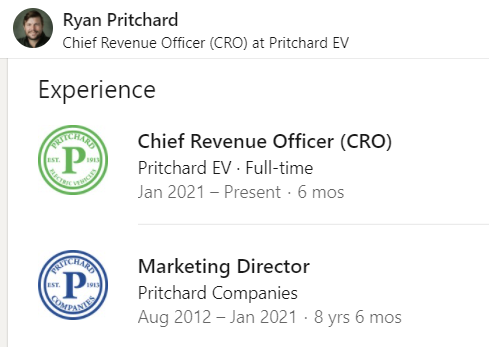 Workhorse's filings confirm that this would be improper revenue recognition. Workhorse recognizes revenue "when the customer obtains control of the products" (2020 10-Q, pg 10):
Used Truck Dealership Ordering >1400% More Trucks than Its Entire Inventory
In January 2021, Workhorse announced a no-deposit "purchase order" for 6,320 trucks from a small Canadian company called Pride Group Enterprises.
Pride Group owns 16 used truck dealerships. The entire current inventory posted at all its US and Canadian dealerships combined amounts to 432 used trucks and 0 new trucks.
This order is as believable as most used car dealers. It is for 1400% of Pride's entire inventory.
The order size was so improbable that investment bank Roth Capital put out a note questioning its legitimacy. Pride Group also owns their own small logistics company and Roth correctly pointed out that Pride Group's Logistics' entire fleet only consists of 260 trucks.
Pride responded to the Roth's allegations exactly the way you'd expect a used truck dealer to.
Remove the evidence!
Pride Group don't even bother to include the announcement on the company news section of their website. However, on the same day Workhorse's press release was issued, CEO Duane Hughes and Director Samuels Benjamin sold a collective 125,000 shares of stock worth $2.5 million.
We have contacted Pride Group Enterprises multiple times for comment. They have refused to comment.
This "purchase order" reminds us of those "very serious orders" for 100,000 trucks that Workhorse founder and former CEO Steve Burns used to talk about, before he resigned in disgrace as CEO of Lordstown Motors over pretty much this exact issue.
UPS is Done With Workhorse:
Confirmed by Former Workhorse Executives;
Significant Number of UPS E-Gen Trucks No Longer Running/In-Use;
Broken-Down E-Gen Trucks Discovered Via UPS Depots Visits
UPS is Workhorse's most important customer. UPS accounts for >90% of Workhorse's total trucks sold. UPS has the most miles tested on Workhorse trucks with the first delivered trucks to UPS back in July 2015.
We discovered UPS has moved on from Workhorse and many of these new (<6 year old) trucks are broken down. Yet Workhorse continues to pretend that an old 2018 UPS order for 1,000 trucks is an active order. This order features Zero deposit; Zero requirement to take delivery; and has had Zero trucks delivered in the last 3 years.
We asked a one former C-suite Workhorse Executive why UPS would have placed the 1000 truck order.
Their response:
"The UPS contract is not a real contract – just a press release…

It's a non-committal free order, a pre-order, you put nothing down"

~Former C-Suite Workhorse Executive B
Another former C-Suite Workhorse executive told us that at the end of 2019:
"A substantial number of Workhorse UPS Trucks were no longer on the road [by end of 2019]"

"How many are no longer running?"

"Up to 50%, let's say less than 50% but more than 25% so between 25-50% were no longer running by then and some were returned for warranty repair."

~Former C-Suite Workhorse Executive A
Our calls with UPS employees and visits to UPS depots confirmed these statements that a significant number of UPS's Workhorse trucks are out of service.
UPS Drivers Say "Workhorse Trucks are Garbage" and "A Bust"; In Atlanta >90% of the UPS Trucks Are Broken Down and No Longer Used
Atlanta is UPS's global HQ. Atlanta is also the city where the largest number of Workhorse trucks was deployed. The two Atlanta locations (Roswell, GA and Doraville, GA) were among the UPS depots that received the most WKHS trucks — ~40 between them — a former senior UPS employee told us. So we interviewed local UPS drivers and we sent investigators to visit the two depots in Atlanta. We discovered:
Greater than 90% of the Workhorse E-Gen trucks are "broken down and abandoned" in Atlanta after less than 5 years.
Sources said only ~2-3 Workhorse trucks out of the ~ 40 deployed in Atlanta still work.
An Atlanta UPS Senior Teamsters Official who previously drove the Workhorse trucks. He told us that "Nobody enjoys driving them" and called the Workhorse hybrids "garbage" and "a bust"
"We had the hybrids. They're garbage, garbage. Garbage — they're impossible! We do 200 stops a day, and trying to start up and we have to let them build up pressure. It's a nuisance…

~UPS Senior Teamsters Official in Atlanta
He also told us the Workhorse truck trial had been virtually abandoned.
"They are not buying those [Workhorse's] anymore…There's a couple they still use but they have been phased out. They were a bust for sure.

~UPS Senior Teamsters Official in Atlanta
Another current Atlanta UPS driver at Doreville, GA facility told us the Workhorse trial "an experiment, which has failed."
Our investigator visited the Atlanta facilities for multiple days. We witnessed confirmed the drivers statements with our own eyes and witnessed ONLY 2 or 3 actively still being operated.
Around the facilities we discovered Workhorse E-Gen trucks strewn about wherever they broke down. Some had cargo doors hanging open. Others were actually collecting layers of dust. One of the broken-down Workhorse trucks visited by our investigator in 2021 had not even moved since these Google Maps street view images were taken in 2019.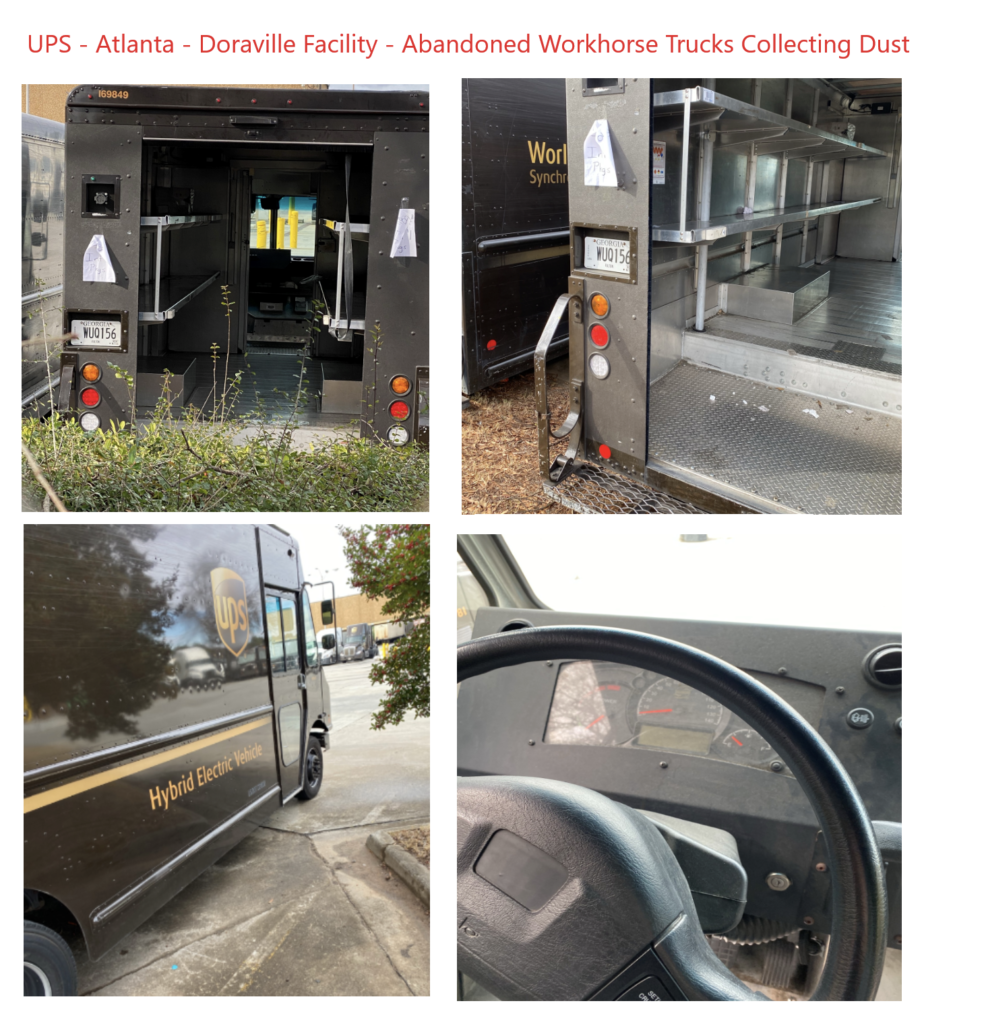 Workhorse's own financial filings and warranty expenses confirm the massive problems with their UPS E-Gen trucks. Warranty costs to Workhorse for primarily battery packs failures equaled 44% of the company's total 2016-2019 revenue ($8.1m in warranty costs vs. ~$18m in revenue).
Part 2: Brand-New Workhorse EVs Don't Work For IKEA – Drivers & Customers Call the C-1000 "No Good" & "Pieces of $hit"
IKEA is the "international home and office retailer" that was testing Workhorse trucks.
On the Q4-2020 conference call management mentioned a secret retailer but never specifically named them. Wall Street analysts don't appear to know what is common knowledge amongst Workhorse's reddit and social media followers crowd, this secret retailer is IKEA.
What no one knows is that the trucks have been riddled with problems and have broken down multiple times in their first 6 months of service.
Quick Background – IKEA does not actually buy any trucks from Workhorse. IKEA uses third-party logistics companies for delivery. The trucks are purchased by Fluid Truck, an online truck rental platform. Fluid then wraps the trucks with IKEA branding, and leases to IKEA third-party delivery vendors and/or their drivers. Fluid has also purchased Lightning eMotors trucks and other EVs on behalf of IKEA.
The initial five IKEA-wrapped Workhorse C-1000s were numbered by Fluid NYW101, NYW102, NYW103, NYW104, and NYW105. These identifiers appear in the photos as we tracked the trucks throughout our investigation.
We found and visited two locations in New York and Los Angeles where IKEA was testing the 5 Workhorse EVs (C-1000) multiple times and spoke to the logistics company employees, IKEA managers, and the truck drivers. What we found shocked even us.
The IKEA EVs Have Broken Down Constantly…Already!
NY Ditched Them Because They Could NOT Drive on Highways
We uncovered and visited two of the IKEA test locations for the Workhorse EVs in New York and Los Angeles. The New York location was, a Staten Island IKEA distribution center.
Our investigator visited the Staten Island distribution center in June 2021. We discovered that New York had already sent all 5 vehicles away! Managers of the Staten Island facility told us:
Employees and drivers at the Staten Island distribution center told us Workhorse EV's couldn't be driven on the highway because the battery would drain too fast when driven over 50mph. We reiterate, the trucks were sent the trucks away because the C-1000s are poorly engineered and CAN'T drive on the highway.
Below is a June 2021 photo of the location where the Workhorse trucks used to be parked. We found Zero workhorse trucks but lots of Lightning e-Motors trucks.
Multiple interviews confirmed that all the Workhorse C-1000's had been sent to California and the Staten Island was using Lightning eMotors trucks for their EVs now. The drivers reported that the drivers we spoke Lightning e-Motors (ZEV)* trucks had been performing well.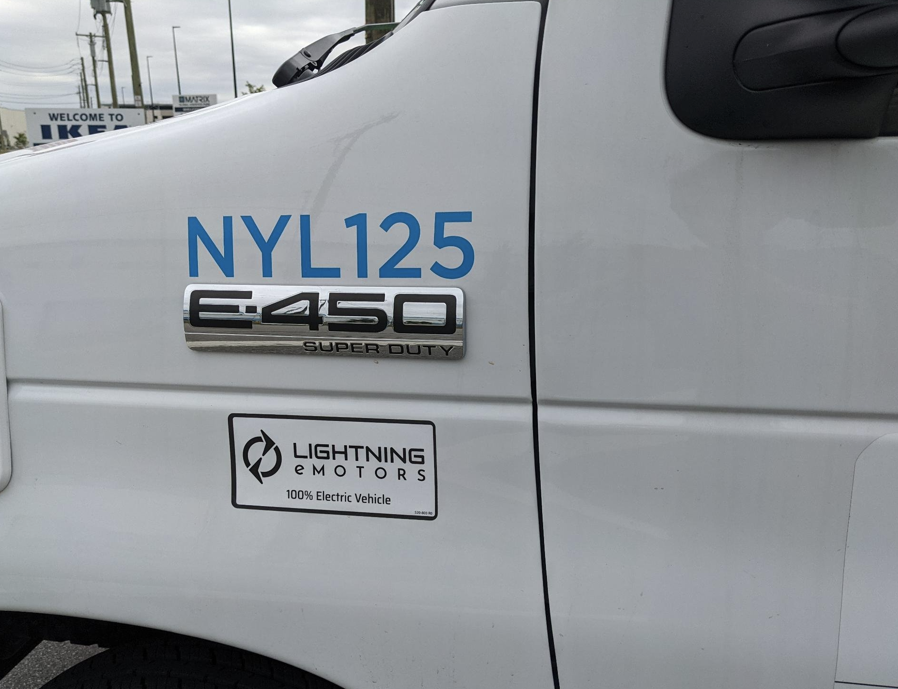 Our investigator then went to Los Angeles to see if they were performing any better in California. Fluid Truck's Blog told us they were being tested in Burbank.
Breakdowns Started in LA in the First Week:
C-1000s Lack the Power to Climb Hills – 1 Abandoned in Inglewood
Tires Smoke When Loaded + Broken Axels
40% Sent Away After 1st Month in LA
We discovered the very same five Workhorse trucks (NYW101-105) had been sent to the Burbank, California IKEA – 600 S Ikea Way, Burbank, CA. According to an IKEA Manager the trucks arrived May 24, 2021 and we learned they started breaking down the very 1st week! After the first month in LA only 3 of the 5 remained. Two that had broken down multiple times were reportedly sent away.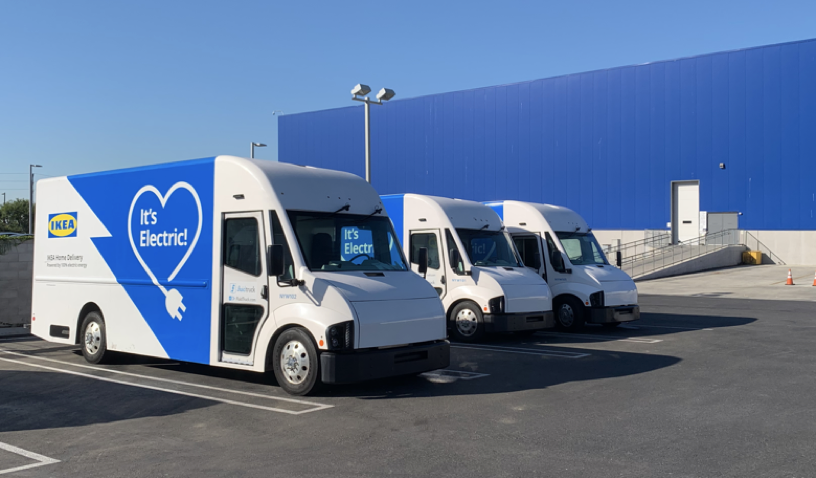 We asked drivers and the managers of T-Force Logistics, the local operator for IKEA's Workhorse trucks, if they liked the C-1000 Workhorse truck and if we should buy a Workhorse EV. They told us:
Two other IKEA Home Managers confirmed the sentiment and, in our conversations, called the Workhorse's
We heard horror stories from drivers including one where he was driving the NYW105 truck and "STUCK ON A HILL". The motor wasn't powerful enough to climb the hill so his Fluid contact just instructed him to abandon the vehicle in the Inglewood neighborhood.
Notable driver complaints and design failures are:
Range issues when driven over 50mph – The C-1000 CAN'T drive on the highway.
Lack of power – Lack of torque & power made the truck roll-backwards at times when loaded
Tires hit wheel wells & smoke – Front of the truck is too low and the front tires hit the wheel-well when loaded. Drivers see smoke and can smell burning rubber whenever they hit a pot holes or bumps.
False weight limit – Real world capacity weight limit turned out to be <3000 lbs total despite Workhorse claiming the C-1000 has a >7000 lbs cargo limit (Note the new CEO has called this out as an issue too)
Broken axles – Axles reportedly broke multiple times.
Safety Issues & Comfort Issues – No airbags, No AC, blind spots for the driver-side mirrors
Charging Failures – vehicle didn't charge on multiple occasions.
Stuck on Hill – One driver was forced to abandon his vehicle in the middle of Inglewood because it got stuck and didn't have enough power
Within the first month only 3 of the original 5 trucks were still on site in Burbank. At the end of June, IKEA employees told us they thought they were only rarely still used because he never saw them gone on a job or even being moved.
"I work in the morning and sometimes I work at night, and I see them just parked there. They haven't been moved. One of them might be shot out, but there are always at least two just sitting there."
The trucks clearly were also treated as worthless.
Back lift left open and unlocked of NYW105:
Keys left in the Ignition of NYW102 + No Infotainment System:
Keys for this truck were sitting in the ignition every time we visited. Apparently, no one even wants to steal a Workhorse EV.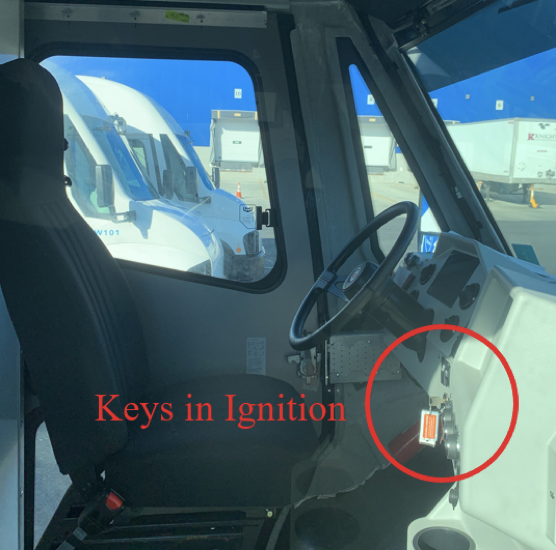 Front tires hit the wheel well:
These tires are supposed to be brand new. Drivers complained of the front tires burning and smoking whenever they hit pot-holes or bumps due to the low clearance.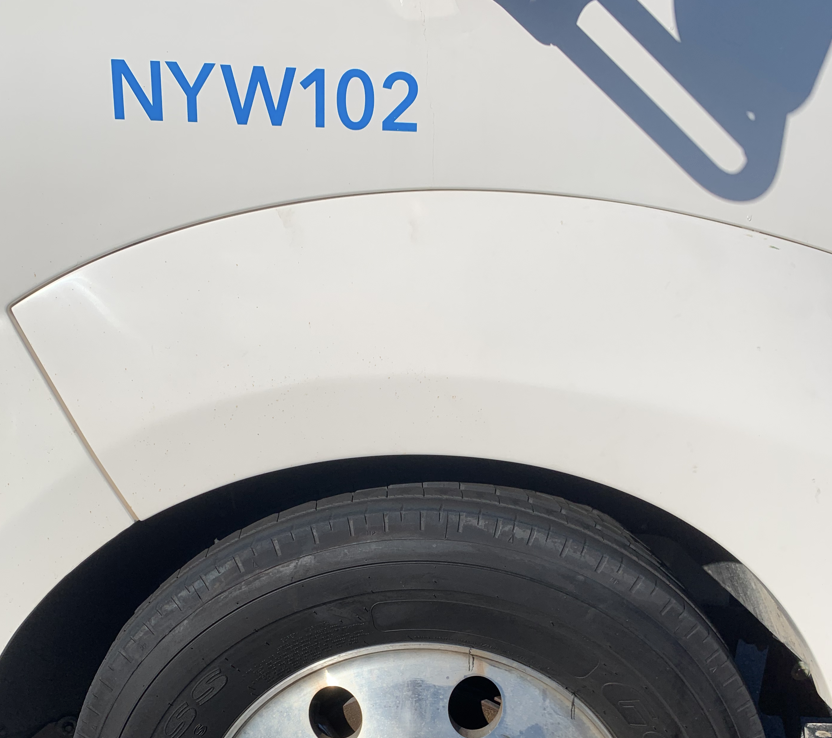 One of two missing trucks was actually filmed by a trucker who posted video and photographic evidence of a broken Workhorse C-1000 (#NYW104) being towed out of California on June 3rd along with a presumably broken down UPS E-Gen Hybrid. This truck was documented leaving California as it entered Arizona on Interstate Highway 40 mile near milepost 6, (Google Maps).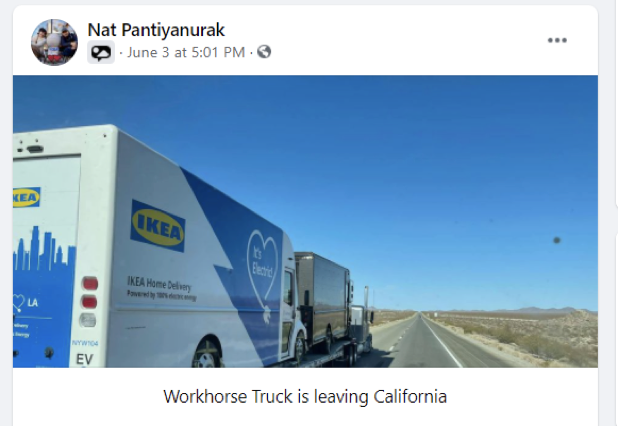 As for the remaining 3 Workhorse trucks. IKEA's LA logistics company developed a new strategy to deal with all the break-downs.
T-Force, IKEA's Burbank logistics company, started keeping a driver of a Gas-Powered truck on stand-by to go rescue the Workhorse drivers when they encountered issues or broke down.
Fluid Trucks (the EV leasing company for IKEA) bought 40 more Lightning eMotors EVs & ZERO more Workhorse EVs
Fluid Trucks announced in March 2021 an order for 40 electric delivery trucks from Lightning eMotors. This is on top of the 600 Lightning eMotors trucks they ordered back in October 2020.
Fluid has not announced any more orders for Workhorse trucks. Workhorse also did not reference Fluid or the large retailer "IKEA" even once in their Q1 2021 earnings call.
IKEA announced that all of its NY last mile delivery fleet was converting to EVs by May 2021. No more will be from Workhorse.
IKEA and Fluid Trucks gave Workhorse a shot. Workhorse failed miserably, as it has for years in every case. Just like the USPS, companies just move on to partners and technology they can count on.
Part 3 – Never-Before-Seen Government Studies Conclude Workhorse Trucks Don't Work!
We uncovered two unknown, government-funded studies testing the efficiency and roadworthiness of Workhorse trucks. The Department of Energy studies, done in conjunction with FedEx and UPS, make clear why all major fleet customers have abandoned Workhorse.
FedEx recommended finding a more reliable EV manufacturer and said continuing the project with Workhorse was a "No-Go."
Workhorse trucks only showed up for "work" 52% of the time for UPS. They were completely unavailable the other days due to continuous vehicle failures and maintenance issues.
Premature route failures – When Workhorse trucks were available to do deliveries the routes ended extremely prematurely due vehicle problems. ~14% of the time the vehicles completed less than 1 mile.
The first study observed a Workhorse E-Gen truck driven by FedEx for 13 months. The second observed 18 Workhorse trucks being operated by UPS in Houston for two years.
FedEx Recommended Workhorse a "No-Go" due to Manufacturer Reliability Issues:
When has FedEx ever bought one or two of anything?
In May 2018, Workhorse delivered the only truck they have sold to FedEx Corporate. The US Department of Energy helped fund FedEx's purchase and study of a Workhorse E-Gen vehicle.
The results of the FedEx study of Workhorse DOE Award Number DE-EE0006522 make it clear why FedEx never purchased another Workhorse Truck again!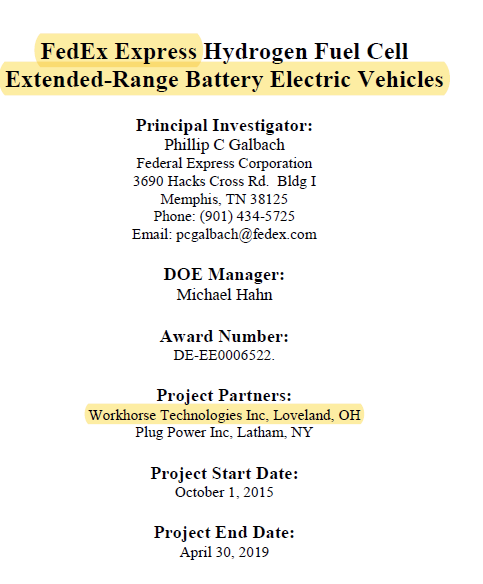 The summary included:
FedEx found Workhorse to be an "unreliable EV manufacturer"
FedEx concluded the only path forward for the project was to end it or "FIND ANOTHER EV MANUFACTURER" and start over.
FedEx called Workhorse "Unreliable"…yet Workhorse still tells investors FedEx is a "BlueChip Customer" and highlights FedEx as providing "Technology validation" in this Jan 2021 Investor Presentation

A Second Government Study! DOE UPS Study Shows Workhorse Truck Are Massively Unreliable; Trucks Broken ~50% of the Time, Often Breakdown Immediately
The Houston based DOE study revealed how poorly Workhorse trucks performed for UPS.
The DOE funded UPS study shows:
Workhorse's all-electric technology had persistent problems
Workhorse trucks were only utilized 40% of the time and were unavailable for service 48% of the time due to maintenance and reliability issues
When the trucks were sent out, they failed immediately 14% of the time with an avg trip length of just 0.4 miles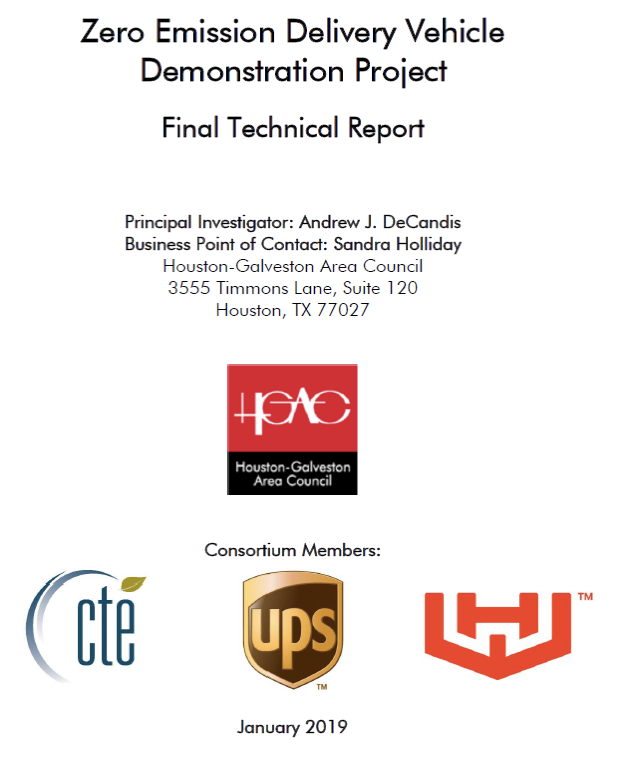 This study tested the performance over two years of 18 Workhorse E-Gen trucks based out of 3 different Houston-Galveston UPS depots. We obtained the DOE study report from the Houston City Council and posted it for the investing public.
Throughout the two-year study of Workhorse's E-Gen trucks Workhorse Trucks had "unexpected persistent and ongoing performance issues related to the all-electric technology integrated into the vehicles" (pg 2). This resulted in significant downtime.

"UPS utilized the electric fleet only 40% of the time…the vehicles were heavily used initially but saw a steady decline as maintenance and reliability issues emerged."
The trucks were only available for service 52% of the time meaning they were broken the other 48% of days. Sweetwater, one of the three UPS study facilities. reported so many vehicle failures that 3 of their 6 vehicles were only utilized 15% of the time (pg 17).

14% of Workhorse E-Gen trips didn't even last 1 mile!
The trucks returned to the depot with their batteries less than 10% depleted and an average distance of only 0.4 miles (pg 19). An average route in Houston for the study was 50-65 miles. The study blamed "issues arising during operation." AKA the trucks BROKE DOWN.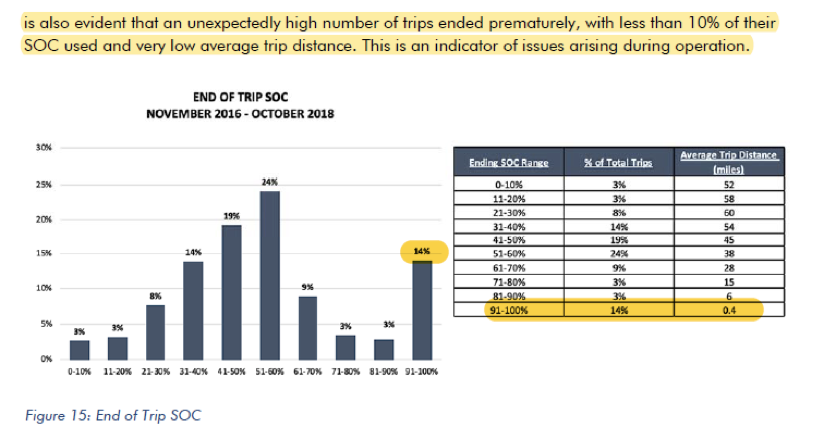 Notable issues with the Workhorse Trucks highlighted in the study:
Maintenance & reliability issues (pg 15)
Several DC converter failures (pg 14)
Semiconductors failing and causing electronics to overheat (pg 14)
Battery chargers failing (pg 14)
Software glitches and malfunction (and Workhorse did not have access to the source code) (pg 14)
Workhorse Misleads Investors on Social Media Into Thinking UPS is Still Involved: Quotes Retired Employees and Posts Misleading "Brown Truck" Photos
Nikola Founder, Trevor Milton, recently was indicted by the DOJ in a securities fraud scheme. The DOJ alleges
"Trevor Milton brazenly and repeatedly used social media, and appearances and interviews on television, podcasts, and in print, to make false and misleading claims about the status of Nikola's trucks and technology."
Workhorse better hope the SEC and DOJ aren't following them on Twitter too.
Workhorse investor decks and tweets still quote Mark Wallace praising Workhorse and identify Wallace as "Senior Vice President of Engineering – UPS".
In reality, Mark Wallace left UPS > 3 years ago in March 2018.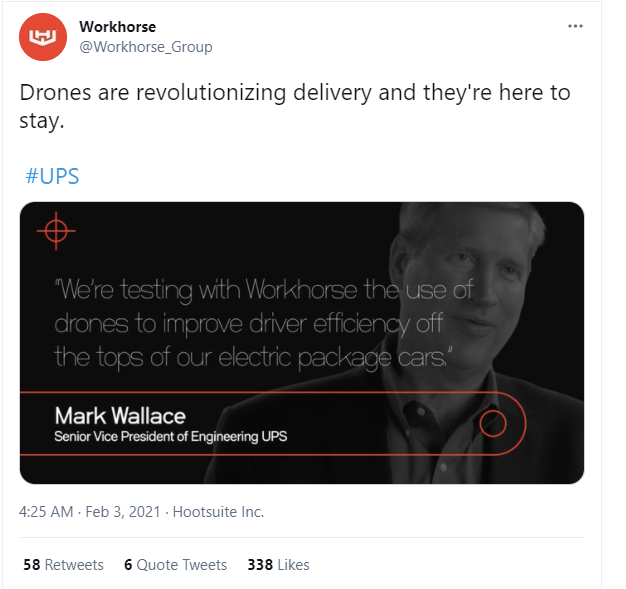 We spoke to Wallace and he seemed just as surprised to learn that Workhorse was still using him as the face of UPS:
Workhorse also posts misleading photos of Brown Colored Trucks (UPS signature colors) leaving their Factory. They clearly are trying to give investors the false impression UPS is currently taking on deliveries. (1, 2)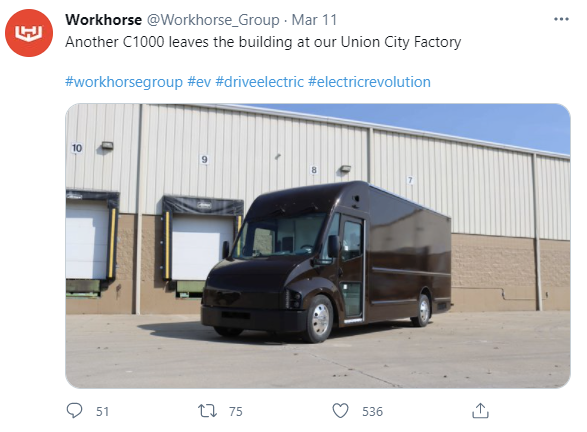 Social Media proved that this was completely false and was not even a UPS trucks! Investors on Reddit & Facebook discovered in their DD that this "Brown Truck" is nothing more than another unsold Workhorse prototype painted in UPS brown.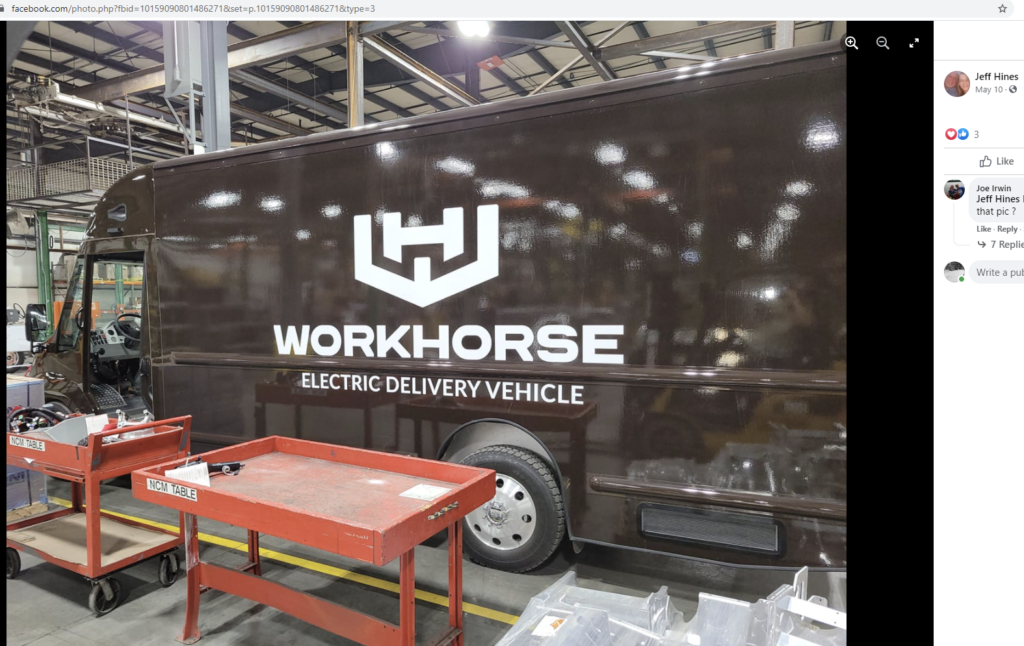 Still wondering why a current UPS employee won't comment on Workhorse?
It's because UPS is no longer a customer.
Part 4 – USPS NGDV Protest to Crash & Burn Again:
Workhorse "Won" Last Place
Two EV's Beat Workhorse's Prototype
Management Incompetence Could Lead to Prompt Case Dismissal
Cheated on Required Tests + More Prototype Failures Uncovered
Workhorse lost the USPS NGDV bid for one reason alone. Workhorse's trucks DO NOT WORK!
Workhorse actually won LAST PLACE of all the NGDV prototypes entries!

The main category Workhorse's prototype appears to have won was the "Most Safety Issues" with the OIG Report showing a total of 117 safety issues (51 were deemed critical safety issues – highlighted by a break failure that caused an employee to jump out of a moving truck.)
Workhorse Misled Investors – USPS Received THREE Electric Vehicle Prototypes! Even if Oshkosh was eliminated Workhorse still would LOSE the NGDV contract.
Both company's electric prototypes scored higher and beat Workhorse's EV offering. Oshkosh BEV scored #2 and the Karsaan-Morgan Olson BEV was either #3/#4.

Workhorse disclosed in a legal filing that the USPS actually received Two other EV offers. Workhorse redacted the exact language but very clearly the USPS informed them that "even if Oshkosh was eliminated" and the USPS "required to only buy EVs" that Workhorse would still lose the contract.
Quick Dismissal Coming after Sept 15, 2021 Oral Argument – Management Failed to Follow the Proper Appeals Protocol
Workhorse's complaint about losing after they came in last place will likely be dismissed by the Judge quickly due to Workhorse not following the proper USPS appeal process and protocol. Workhorse failed to correctly lodge an appeal of their denial of disagreement letter within 10 days. In fact, they never completed step 2 of simple 2-step appeal process.

The USPS NGDV appeal 2 step process:
Step 1 – Submit a disagreement letter to contracting officer – Done Correctly

Contracting officer resolves disagreement (either denies or accepts the disagreement letter)

Step 2 – Appeal the denial of disagreement letter to USPS Supplier Disagreement Resolution within 10 days of contracting officer's decision – Workhorse FAILED to ever submit Step 2
Workhorse's protest will be dismissed at oral argument due to failing to complete the required 2-step appeal process
Other Workhorse USPS Prototypes Failures:
Workhorse confirmed all of Fuzzy Panda Research's October 2020 findings that the Workhorse prototype rolled away down a hill and crashed into a ditch. Workhorse also confirmed our discovery that Workhorse was never awarded a contract to bid and actually were a sub-contractor to VT Hackney.

We have since uncovered additional undisclosed issues with Workhorse's prototypes some of which we believe even the USPS might not be aware of:
Workhorse CHEATED on required USPS NGDV tests – specifically a defroster test. Workhorse rerigged their prototype to send 100% of the battery power to the defroster to clear an ice defroster test they had previously failed. They still only barely passed the 30 min test.
Other Prototype Issues Not Disclosed to the USPS – These include:

Door Latch Problems
Broken Suspensions – during a winter heavy duty test and going over railroad tracks
Safety Belt Issues
Part 5 – Loan Default! – Debt Covenant Breach Impending – All of WKHS Assets are Pledged
Workhorse is set-up to breach their debt covenants for their ~$200 million in convertible debt soon.
Default could be declared ASAP if Antara Capital chooses to act aggressively to get their $200m back. According to bankruptcy lawyers we spoke with Antara could potentially declare a default on the "material breach of representations and warranties" provision due to the fictious orders, potential revenue fraud, or undisclosed related parties.
At the very latest, Workhorse will default in 7 months, March 31, 2022, when the minimum backlog sales covenant is tripped. As part of the October 2020, convertible debt agreement, Workhorse management agreed to very restrictive covenants regarding their minimum sales and their backlog, aka order book. Investors now know that Workhorse has been misleading everyone about their order book size by creating fictitious customers or by calling old dead orders "firm orders."
The debt covenants regarding "Minimum Backlog Sales" are set to breached on March 31, 2022. Backlog Sales are defined as Backlog Conversions (the last four quarters automotive net sales) + Backlog Orders (Number of Firm Orders * Net Purchase price).
Based on the last 4 quarters sales of ~1.8m and an est $85,000 price point Workhorse is required to have "Firm Orders" for >270 trucks.
We've shown they did not have the required firm orders so instead management started making up fictitious customers and announcing orders with used truck dealers.

Breaching this covenant results in an event of default and automatic acceleration of the $200 million in debt The company only has 10 days to cure this event of default before the debt holders can force them to declare bankruptcy.
Cash from RIDE Sale Stuck in an SPV – All Assets Pledged to Debt Holders
The convertible debt is secured by all of Workhorse's assets including their IP and the Lordstown Motors Equity & cash from the equity sale. Workhorse actually both granted the debt holders a lien on the LMC Investment and put the equity and cash ($79 million sold so far) proceeds from RIDE equity sales into a special purpose vehicle called "LMC SPV" which the convertible debt holders control..
Currently Workhorse has an estimated $245 million of cash + remaining RIDE Equity and is burning $10m of cash per month. Thus, Antara is incentive to act quickly as while there are still liquid assets worth more than their $200 million convertible debt stake. If the debt holders wait until March 2022 it is even more disastrous for any remaining equity holders as there will not be enough cash to pay off the defaulted debt and convertible note holders will be able to take possession of all of Workhorse's Assets during bankruptcy.
Conclusion: Short Workhorse – They Are An Imposter Meme Stock
🐴 Can't 🚀🌕 with 🚚s that BREAK on🗻s
Workhorse is not GameStop, AMC, or BlackBerry**. It's not undervalued on a Price to Sales basis, nor can a capital structure change save them and send their stock to the moon. Workhorse is just a fundamentally incompetent, corrupt company that will continue to be left in the dust of the EV boom. It earned its short interest the old-fashioned way, one broken down and abandoned product at a time.
Workhorse happens to be the only EV player during a historic boom for the industry that has a demand problem, not a supply problem. Every major truck buyer in the US — UPS, FedEx, DHL, WB Mason, Brinks, Cintas, and others — has bought or tested Workhorse trucks and decided they are "garbage."
Our investigation of Workhorse found:
An order book full of suspect companies. Some didn't even exist when we visited.
Customer indicating Workhorse committed revenue recognition fraud
Undisclosed material related party transactions
Broken EVs that can't drive on highways or up hills
UPS Trucks that broke down and are abandoned all over America
Two government-backed studies that were designed to validate Workhorse's technology but instead found the trucks so unreliable that both recommended finding a different manufacturer
Major customer (UPS) has scrapped a significant share of their <6 year old trucks
Workhorse's press releases are designed to overstate deals' potential while downplaying the fact that their partners haven't committed to buying any trucks
Workhorse lost the USPS NGDV contract for good reasons: Cheating; Critical failures with Prototypes; Runaway vehicles. Workhorse came in last place and even lost to 2 other EV prototypes but yet somehow thinks they deserve a trophy for participating.
The SEC have an active and on-going investigation into Workhorse
Simply put:
WKHS 🚚 breaks driving up a 🗻
The only place WKHS stock will 🚀 is the ⚰️ ☠️
If you 💎 🙌 this 🗑️, it will ✂️ you. WKHS customers think the EVs are complete 💩
We are Short Workhorse but WKHS customers' review summarize our thesis best.
*Additional Disclosures:
*We have a long position in Lightning eMotors (ZEV). Primarily because the IKEA drivers we interviewed loved the ZEV trucks, but also because short interest in ZEV is too high, borrow cost is >70%, plus ZEV is a great natural hedge for a short position in an EV companies with a fake order book like WKHS.
**We also have small long positions in Blackberry (BB). Because BB goes Brrr (and also because we have done extensive research into the long-term future of the QNX platform).
Appendix A – Other Customers That Have Bailed on Workhorse:
DHL – Announced anorder for 63 Workhorse EV's in February 2019. Press releases and management interviews make it clear that 0 Workhorse EVs have ever been delivered to DHL. DHL has actually begun deploying Lightning eMotors EVs though.
Cintas – Uniform Business & Top 20 Fleet Owner – Received 1 E-Gen truck for a 6 month test in November 2016 (2016-11-11 press release) Workhorse has never mentioned them again.
Brinks – Large Armored Car Fleet Operator – Brinks had 2 Workhorse trucks delivered in Q3-2017. The last reference to Brinks was the Q3-2017 10-Q
WB Mason –WB Mason is a Boston based office supply company who leased 4 E-Gen trucks via Ryder. The deal was announced October 2017 and a former described the transaction as "we gave those to WB Mason for FREE."
Alpha Baking Company – 10 Workhorse trucks received. 5 ordered in February 2015 and another 5 ordered in Summer 2017. 1 of the Alpha Baking Co trucks was recently spotted parked at the Workhorse Union City Factory which is never a good sign.
We contacted Alpha Baking Co's VP and logistics boss Bob McGuire. He did not return emails or calls. In a first brief phone call, he asked us to phone back at a later date saying "I don´t know when. I´m a baker". On a second occasion, he answered the call and began by saying "You see, it´s like this…" and then promptly hung up.
Coop by Ryder – It is unclear if Ryder should even be considered a "customer." Ryder is technically a "customer" in only a very liberal definition of the word customer. It would be similar a person listing their house/apartment on Airbnb and then calling Airbnb a "customer."
Two Workhorse trucks were delivered to Co-op by Ryder in Q3-2021 despite having been listed as a strategic partner since May 2017. Coop by Ryder is a peer-to-peer rental platform for trucks. However, based on the increases in accounts receivable it is unclear if anyone has actually paid Workhorse for these vehicles and they should count as sales at all. Both Workhorse truck are currently available for to rent in California for $70 a day – (here and here)
We contacted Ryder to clarify the correct definition of "customer" and they declined to comment.
"After reviewing this with several teams internally, we have decided that we will respectfully decline to participate. Appreciate you considering Ryder. Please to reach back out with any other future opportunities to connect."

~ Jonathan Mayor, corporate communications manager for Ryder (email response to our inquires)
Amazon – A employee former told us that Amazon once visited Workhorse's factory back in 2018 and when they saw the state of the Union City factory Amazon immediately decided to invest in Rivian and stopped talking to Workhorse.
Appendix B – Workhorse's Oversupply Problem Equals Faster Cash Burn
Workhorse is the only new EV company that has a supply problem. They have a larger supply of trucks than the current demand.
Workhorse reported producing 133 trucks year to date (Q2-2021 CC) yet has only sold 20 trucks in Q1 and Q2 combined.
This is an increase of +120 undelivered trucks from the end of 2020. In Q1 Workhorse built 38 trucks despite only delivering 6 trucks. Workhorse Q2 financials show they had a cost of goods sold per truck of ~$1,050,000 per truck yet only sells them for $80,000. The trucks have -1130% gross margins.
The increase in inventory alone amounts to a significant amount of shareholder cash being set on fire building trucks that not only don't have a secured buyer but also have massive design problems.
These are the same trucks that:
Can't drive on the highway
Can't drive up hills
And whose front wheel wells hit the tires if you load products into them.
This recent youtuber's fly-over video from July 25, 2021 captured many of the undelivered trucks parked next to the Union City, Indiana factory we previously visited.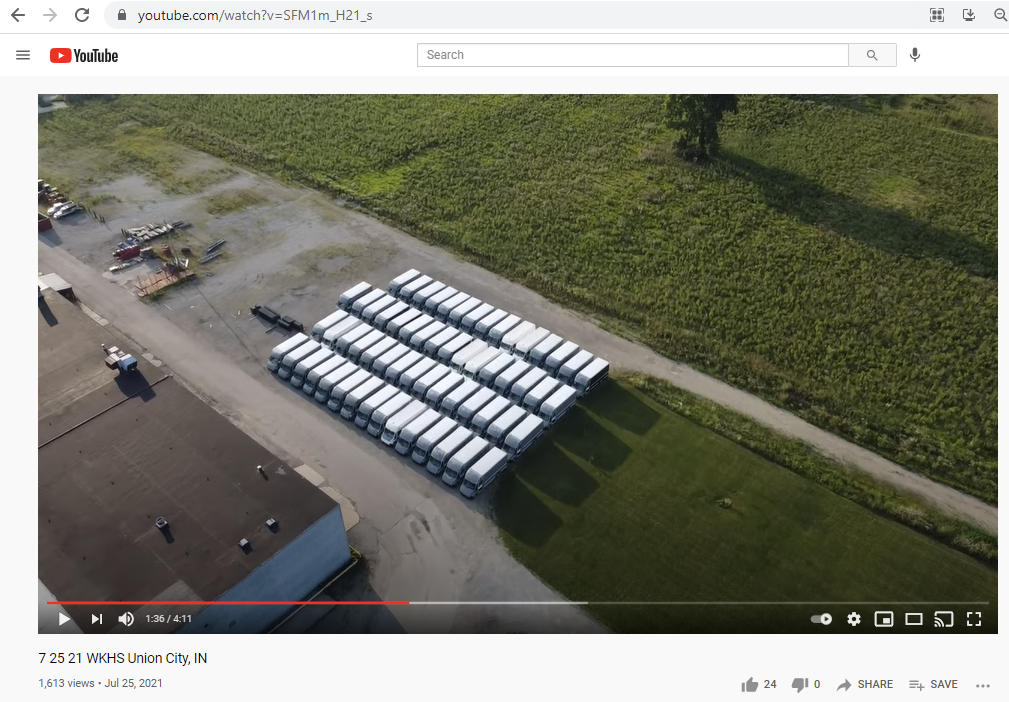 Appendix C – Duane Hughes: No Automotive Experience + No College Diploma Despite 5+ Years in Undergrad
Duane Hughes, former CEO of Workhorse Group, had zero automotive experience before joining Workhorse. But according to his LinkedIn profile he does have multiple degrees from Northern Kentucky University.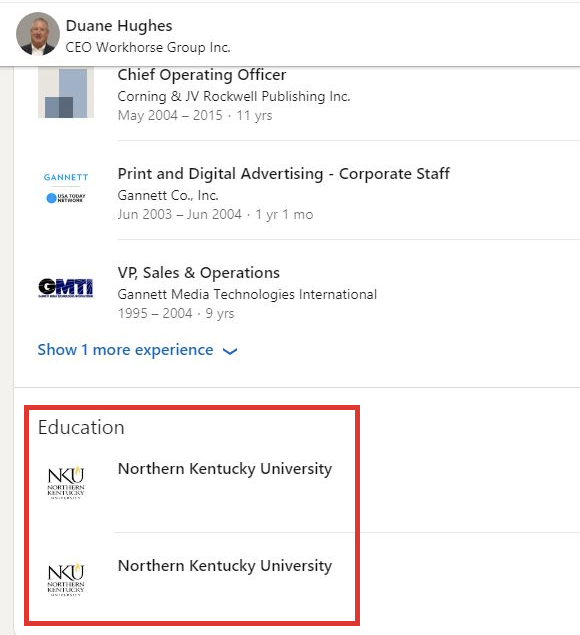 We checked with Northern Kentucky University. They confirmed that despite his attending for >5 years, Duane not only DID NOT graduate from college nor did he even declare a major.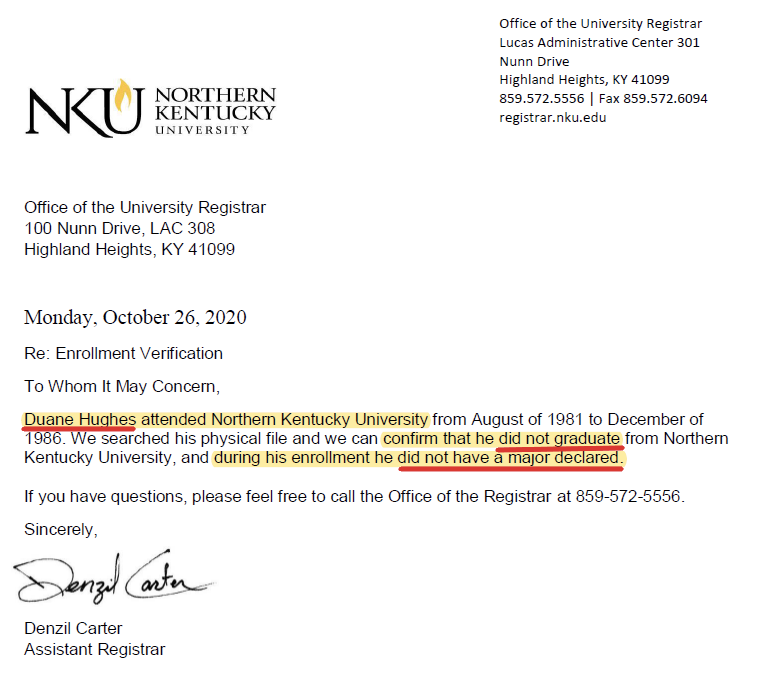 Appendix D – Was a PPP Loan used by the undisclosed related party, Electric Vehicle Fleet Services to buy a Workhorse Truck?
 Workhorse's undisclosed related party Electric Vehicle Fleet Services LLC took a $350k PPP Loan in government bailout money in April 2020. It appears they falsified records for their PPP Loan by claimed they had 15 employees and were >2 years old. In reality, Electric Vehicle Fleet Services LLC was incorporated only 8 months earlier in July 2019 and only had four employees as their old website clearly shows (including one of whom actually worked for Workhorse). 

Did EVFS use its bailout money to buy a Workhorse truck instead of paying the 15 employees it claimed to have?
Did 100% of WKHS's Q2 2020 automotive revenue come via funneling a PPP Loan a secret related party?
If EVFS really has 15 employees, why doesn't its headquarters exist?
Workhorse themselves took a $1.4 million PPP loan that it has decided not to repay despite having raised >$200m from investors during the pandemic. Workhorse's own PPP loan was fully forgiven in Jan 2021.
Disclaimer & Terms of Service:
By downloading from or viewing material on this website and/or by reading this report, you agree to the following Terms of Service. You agree that use of the research on this website or report is at your own risk. In no event will you hold Fuzzy Panda or any affiliated party, including officers, directors, employees and agents of Fuzzy Panda or any companies affiliated with them, liable for any direct or indirect losses caused by any your use of information on this site. You further agree to do your own research and due diligence before making any investment decision with respect to securities covered herein. You represent that you have sufficient investment sophistication to critically assess the information, analysis and opinion on this site or in this report. You further agree that you will not communicate the contents of reports and other materials on this site to any other person unless that person has agreed to be bound by these same terms of service. If you download or receive the contents of reports or other materials on this site as an agent for any other person, you are binding your principal to these same Terms of Service.
You should assume that as of the publication date of their reports and research, Fuzzy Panda and possibly any companies affiliated with them and their members, partners, employees, consultants, clients and/or investors (the "Fuzzy Panda Affiliates") have a short position in all stocks (and/or options, swaps, and other derivatives related to the stock) and bonds of companies covered in such reports and research. They therefore stand to realize significant gains in the event that the prices of either equity or debt securities of the subject companies decline. Fuzzy Panda and the Fuzzy Panda Affiliates intend to continue transactions in the securities of issuers covered on this site for an indefinite period after their first report on a subject company, and they may be short, neutral, or long at any time hereafter regardless of initial position and the views stated in Fuzzy Panda' research. Fuzzy Panda will not update any report or information on this website to reflect such positions or changes in such positions.
This is not an offer to sell or a solicitation of an offer to buy any security, nor shall Fuzzy Panda offer, sell or buy any security to or from any person through this site or reports on this site. Fuzzy Panda and the Fuzzy Panda Affiliates do not render investment advice to anyone unless they have an investment adviser-client relationship with that person evidenced in writing. You understand and agree that Fuzzy Panda does not have any investment advisory relationship with you or fiduciary duties to you. Giving investment advice requires knowledge of your financial situation, investment objectives, and risk tolerance, and Fuzzy Panda has no such knowledge about you.
If you are in the United Kingdom, you confirm that you are accessing research and materials as or on behalf of: (a) an investment professional falling within Article 19 of the Financial Services and Markets Act 2000 (Financial Promotion) Order 2005 (the "FPO"); or (b) high net worth entity falling within Article 49 of the FPO.
Fuzzy Panda's research and reports express their opinions, which are based upon generally available information, field and online research, and inferences and deductions through due diligence and the analytical process. To the best of their ability and belief, all information contained in their reports is accurate and reliable, and has been obtained from public sources believed to be accurate and reliable, and they have not obtained information from persons who are insiders or connected persons of the stock covered or who may otherwise owe any fiduciary duty or duty of confidentiality to the issuer. However, such information is presented "as is," without warranty of any kind, whether express or implied. Fuzzy Panda makes no representation, express or implied, as to the accuracy, timeliness, or completeness of any such information or with regard to the results to be obtained from its use. Further, any report on this site contains a very large measure of analysis and opinion. All expressions of opinion and conclusions are subject to change without notice, and Fuzzy Panda does not undertake to update or supplement any reports or any of the information, analysis and opinion contained in them.
You agree that the expressions of information in this report are copyrighted and owned by Fuzzy Panda Research, and you therefore agree not to distribute this report or any excerpts from it (whether the downloaded file, copies / images / reproductions, or the link to these files) in any manner other than by providing the following link: www.fuzzypandaresearch.com. If you have obtained Fuzzy Panda's research in any manner other than by downloading from that link, you may not read such research without going to that link and agreeing to the Terms of Service. You further agree that any dispute between you and Fuzzy Panda and their affiliates arising from or related to the material on their website shall be governed by the laws of the State of California, without regard to any conflict of law provisions. You knowingly and independently agree to submit to the personal and exclusive jurisdiction of the state and federal courts located in California and waive your right to any other jurisdiction or applicable law. The failure of Fuzzy Panda to exercise or enforce any right or provision of these Terms of Service shall not constitute a waiver of this right or provision. If any provision of these Terms of Service is found by a court of competent jurisdiction to be invalid, the parties nevertheless agree that the court should endeavor to give effect to the parties' intentions as reflected in the provision and rule that the other provisions of these Terms of Service remain in full force and effect, in particular as to this governing law and jurisdiction provision. You agree that regardless of any statute or law to the contrary, any claim or cause of action arising out of or related to this report or the material on this website must be filed within one (1) year after such claim or cause of action arose or be forever barred.