We are SHORT Lucid Group, Inc (LCID) because the source of Friday's Saudi Public Investment Fund (PIF) buyout rumor is Fake News.
A Betaville's "uncooked alert" was widely cited as the source of LCID rumor that sent Lucid's shares as high as $17.80 (+99%) and the stock closed at $12.87 (+43%) on the day. Yet, Betaville's confidence in their own rumor must have been so low that they quickly removed the Lucid rumor from their website.
We also found that Betaville's track record of uncooked alerts working out is atrocious. It's laughable. The usual scenario is that a Betaville rumor causes a stock to bounce for 1 day and then fall right back to where it was trading before.
We think the >40% market move in LCID's stock price presents an unprecedented opportunity to short the stock especially given the suspicious timing that coincided with a lock-up expiration.
Large Lock-up Expired LAST WEEK for Lucid's SPAC sponsor.
On January 23, 2023 Lucid's SPAC sponsor, Churchill Sponsor IV Churchill became free to sell 51.75 million shares of Common Stock in addition to 44.35 million shares of upon exercise of Warrants ($11.50 exercise price). This is a total of 96,100,000 shares!

Betaville is run by a UK-based M&A journalist, Ben Harrington. According to Ben's twitter profile he is currently a freelance journalist who is running Betaville in addition to self-admittedly is looking for work.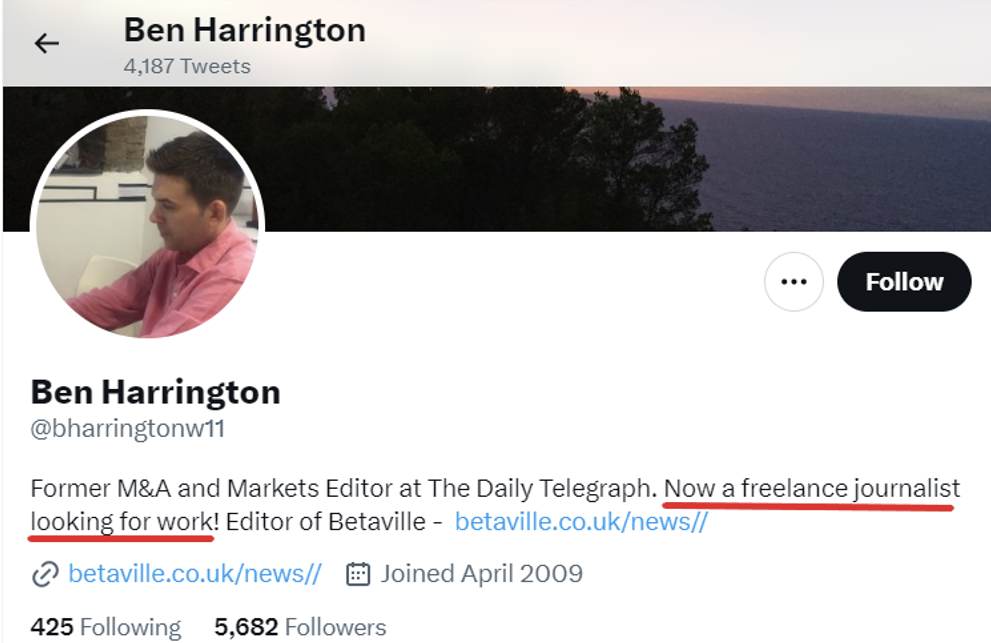 What is a "Uncooked Alert" according to Betaville?
"It's scuttlebutt"
"Hasn't been checked with all of Betaville's well-informed RARE sources"
"The rumour might be total codswallop, rubbish or nonsense"
Betaville's own confidence in their rumor can be shown by the fact that immediately after they were cited as the source of the LCID rumor they removed it from their website. We logged into our paid subscriber (Betaville's M&A rumors are hidden behind a paywall which costs £12,000 annually or £4,000 quarterly) account ~30 min after seeing the rumor and the LCID rumor was nowhere to be found. There was NOTHING. Betaville's own confidence in this codswallop/rubbish LCID rumor was so high that they must have immediately removed it.
There are also many other great reasons to short Lucid beyond the fake news:
Lack of Demand

LCID only delivered 55% of cars produced in Q4-2022.
Fuzzy Panda Research currently receives weekly phone calls from Lucid Sales people hoping we'll convert on our reservation(s).

Bad Economics Further Deteriorating

LCID has initiated $7.5k Price Cuts when Gross Margins are already -152%.
Churchill's founder, Michael Klein, has left Churchill and is now CEO of CS First Boston.
We are short Lucid (LCID) because the we think this codswalloped scuttlebutt LCID-PIF rumor presents a great opportunity to short an EV company whose customers don't want their product.
Sell the FAKE Rumor!
We are Short Lucid Group (LCID)
Please see additional disclosures at end of report and our terms of service.
(We have filed a complaint with the SEC urging them to look into this suspiciously timed rumor that was immediately removed from the web and duped Wall Street.)
Anatomy of Fake Lucid Buyout Rumor
Take a tough to verify news source. (Ideally one with an expensive paywall and that specializes in rumors).
Cite that as the source of a rumor.
Tweet, Tweet, Retweet.
Then the real media picks up the rumor of a rumor once a stock goes up.
Then suddenly the fake rumor becomes a brief stock market reality.
12:23PM –

1st Mention

of a Lucid Buy-Out – Attributed to Betaville
The first social media mention came on Twitter from @OracleNYSE, a day trading alerts account with 13.2K followers. Note – @OracleNYSE replied to us that they got it first from a Benzinga wire rumor and they just happened to be the first to tweet it.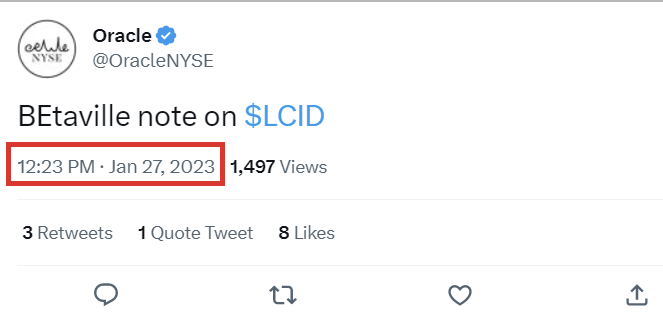 12:24PM –

2nd Mention

– Large Twitter Following – "PIF Preparing for Buyout Chatter Via Betaville"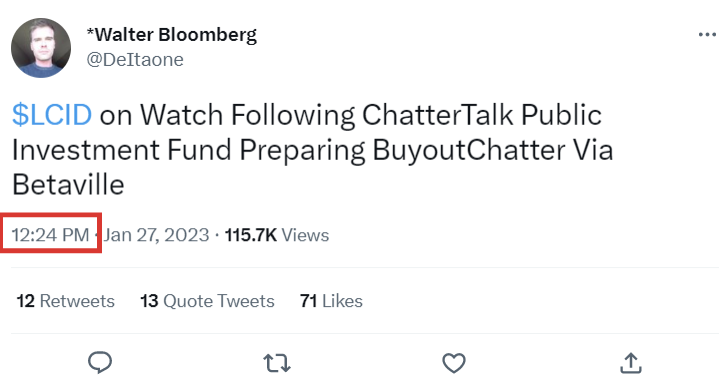 The 2nd social media mention comes from @Deltaone, a Twitter account with a massive 629k followers that regularly posts breaking news updates. Deltaone is often viewed as a Bloomberg terminal for the masses.
12:25PM – The Fly – Real News Media Picks Up the "Betaville Lucid Rumor"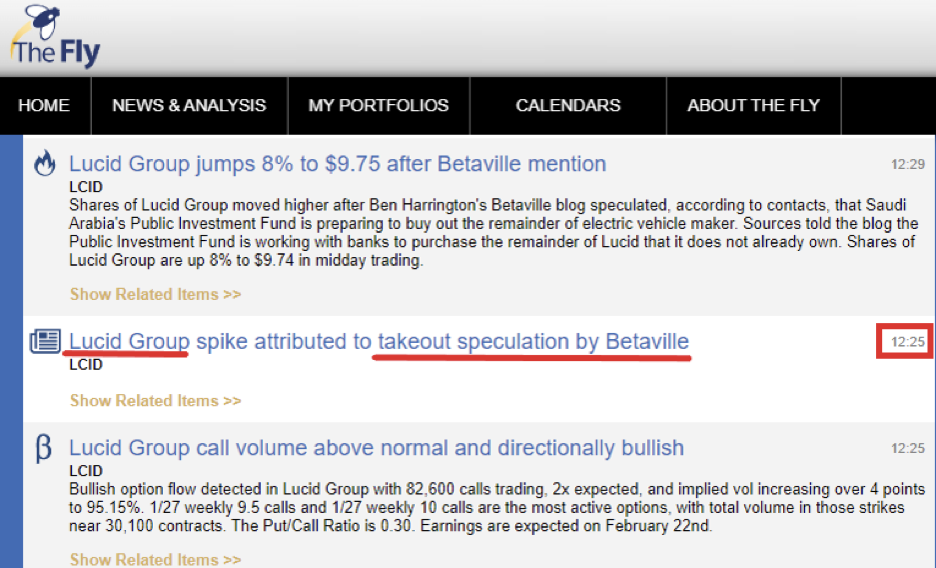 Thefly.com, a news aggregator, then picked up the takeout speculation, also citing "Betaville" as the source. Thefly.com is connected to Bloomberg so Bloomberg automatically picks up the same story.
12:25PM – Bloomberg picks up TheFly.com Lucid Story – Attributed to Betaville

Major news media sources immediately jump on the fake buy-out bandwagon.
From there, numerous finance news outlets and other accounts spread the rumor. Lucid's stock then makes an explosive move to the upside in a GammaSqueeze that causes multiple trading halts.
Yahoo Finance

: Lucid soars Amid Saudi buyout speculation

Reuters:

EV Maker Lucid surges on report Saudi PIF to buy remaining stake

Barron's: Lucid Stock Soars. Here's What is Happening

~1:00PM We went to the Source, Betaville Oddly There was NO BUYOUT RUMOR TO BE FOUND
The rumor alert which began with Betaville wasn't there.
Here is what a paying Betaville subscribers (£12k per year/£4k per quarter) saw when logging in on Friday Afternoon.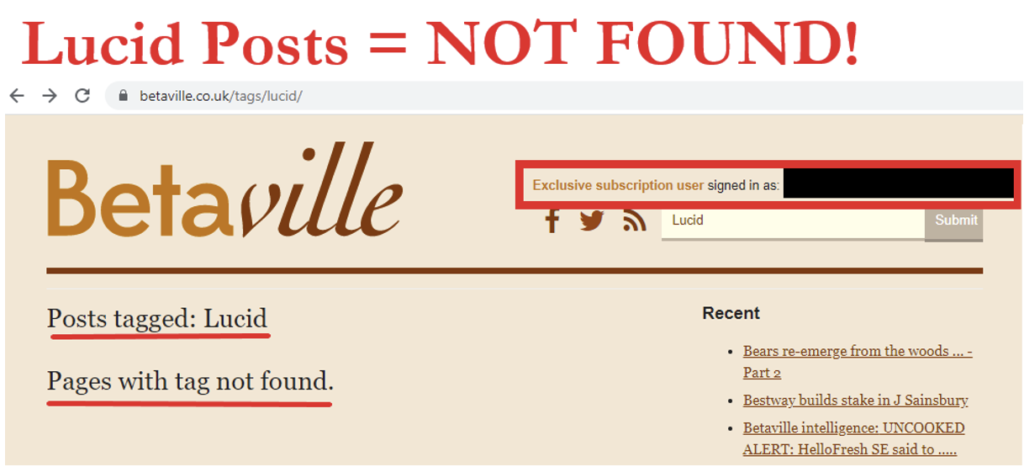 Betaville must have had so little confidence in their own rumor that they immediately removed it from their website.
The unverified likely rubbish is now back up on Betaville. You can see via webarchive from January 29th that it had been completely removed and now is back up and he even added another post before re-adding the LCID report which appears to be post-dated.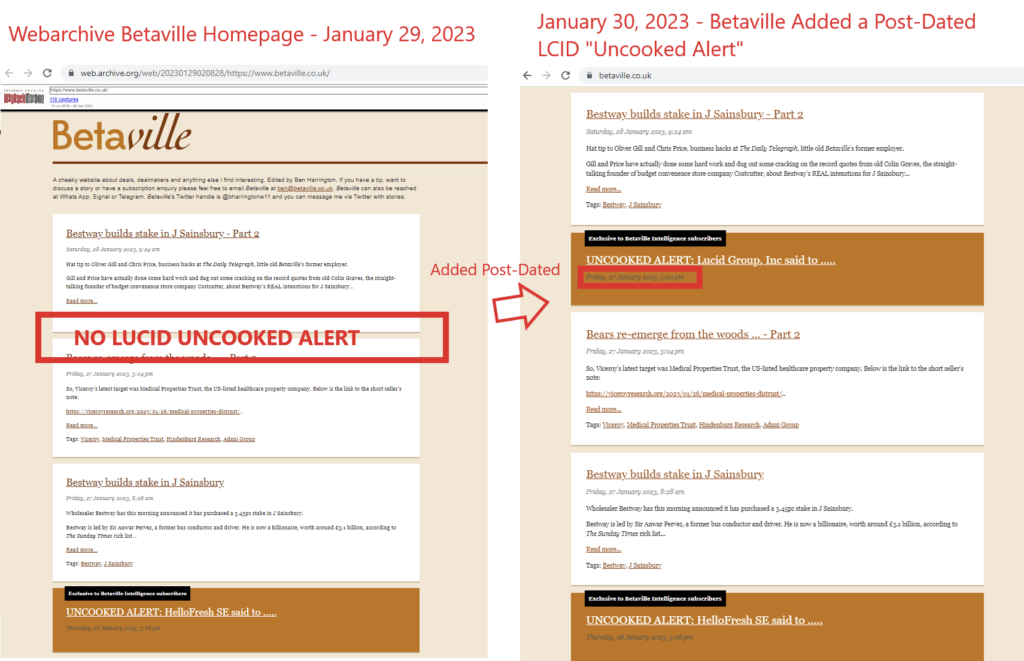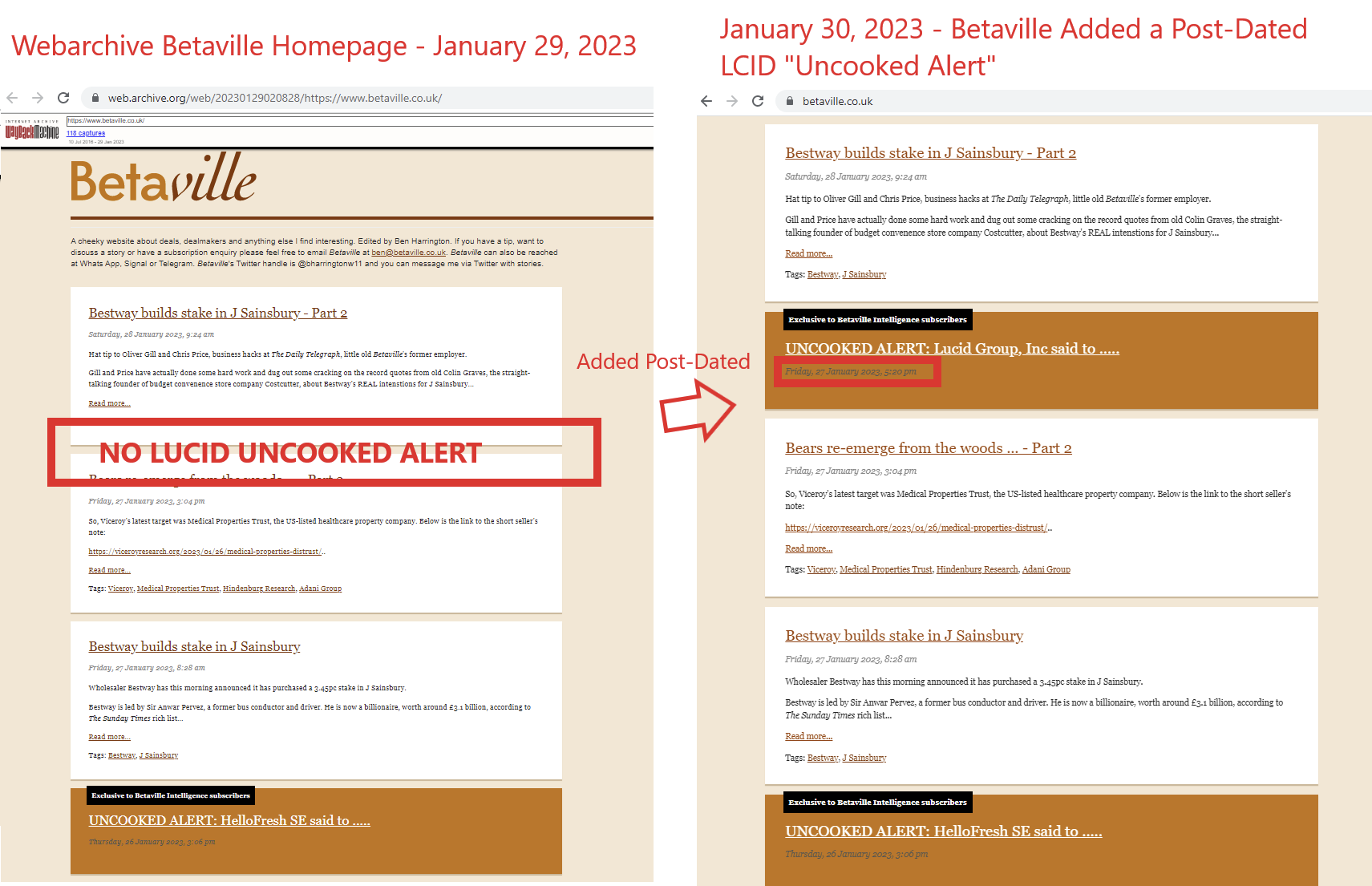 Note – We reached out to Betaville for comment & a chance to explain why we did not actually receive the Lucid alert and if one was issued why it had been pulled down before we logged on. We received no response from Ben despite inquiring over 48 hours ago.
Conclusion – Sell the Fake Rumor
The Lucid Buyout rumor is likely a FAKE.
The timing of the rumor is very suspicious given the large lock-up that expired last week. We think this rumor is nothing more than a sophisticated market player taking advantage of a journalist that is "looking for work" and willing to publish unverified scuttlebutt.
We are short Lucid Group as we believe this GammaSqueeze will quickly become a GammaCollapse once the truth comes out. We expect Lucid to trade back to <$9.
We find the speed at which this fake news circulated and shocked the market to be concerning. Perhaps Mark Zuckerburg was right about the danger fake news poses to society when unchecked.
We are short Lucid Group (LCID).
APPENDIX A:
Long-Term Intelligent Investors – The Saudi PIF is Misunderstood:
It is very clear to us that many market participants have ZERO understanding of the Saudi Arabia Public Investment Fund (PIF).
The PIF invests on a time horizon that not even Warren Buffett is able to think in terms of. They make investments based on a 50+ year time horizon. To the PIF a 5-to-10-year investment is thinking short-term. The PIF's time-horizon is something that most patient investors could only dream about.
As a result of this differentiated time horizon, it is apparent that many market participants view the PIF as dumb money. Some investors think that the PIF is willing to pay whatever, and don't care about returns. This couldn't be further from the truth and the opposite is true. They know that they must generate great long-term returns because at some point, in the ultra long-term, the Saudi oil revenue will run out.
Regarding the PIF's Lucid investment, we have heard that they wanted to take Lucid public because the Saudi's believed it was important that Lucid Group stand on their own. This way it would not be the Saudi's responsibility to solely bankroll the company's losses. If they did take LCID private then suddenly be back on the hook to fund this stream of negative free cash flow.
We realize that this major misunderstanding of the PIF has driven some traders to think that the PIF would be willing to pay whatever for an asset. People actually think they would pay >50% more than they could have paid just 2 weeks ago before a fake rumor surfaced.
If you are one of the people that believes that then who is actually the dumb money?
APPENDIX B – Who is Betaville and Ben Harrington?
Betaville's is in the business of rumors. The outlet has a long history of releasing unsubstantiated alerts which typically are nondescript and cite unidentified sources and unknown acquirers. Betaville describes itself as "A cheeky website about deals, dealmakers and anything else I find interesting. Edited by Ben Harrington."
Betaville offers 3 types of alerts based on their reliability. The type of rumor they published regarding Lucid is their weakest ranking, an "Uncooked Alert."
Well-done Alerts:
"WELL-DONE: Market gossip that has been checked with some of Betaville's TOP sources. However, nothing is certain in life, so the rumour might be wide of the mark!"
Rare Alert:
"RARE: Market gossip that hasn't been tested through formal journalistic channels (public relations executives, bankers etc). The rumour might be total codswallop but then again there may be something in it, so it's worth airing on Betaville."
Uncooked Alerts:
"UNCOOKED: Market gossip as Betaville receives it. This scuttlebutt has just come in and hasn't been checked with all of Betaville's well-informed RARE sources let alone formal journalistic channels (public relations executives, bankers etc). The rumour might be total codswallop, rubbish or nonsense – but then again there may be something in it, so it's worth airing on Betaville."
Clearly Betaville must have little to no confidence in their own Lucid "Uncooked Alert" of a buy-out as they immediately removed it from their website. Ben did not to respond within 48 hours to our questions about why he had removed the "codswallop, rubbish or nonsensical" Lucid rumor.
Betaville Track Record of "Uncooked Alerts" Being Correct is <10%:
We tried to track the times when Betaville was the first news source of a deal rumor and their track record was rubbish. Betaville's "uncooked alerts" worked out <10%. In fact, we could only find 1 time when a "uncooked alert" ended up being correct. Normally, a stock had a 1 day bounce and then faded right back.
Disclaimer & Terms of Service:
By downloading from or viewing material on this website and/or by reading this report, you agree to the following Terms of Service. You agree that use of the research on this website or report is at your own risk. In no event will you hold Fuzzy Panda or any affiliated party, including officers, directors, employees and agents of Fuzzy Panda or any companies affiliated with them, liable for any direct or indirect losses caused by any your use of information on this site. You further agree to do your own research and due diligence before making any investment decision with respect to securities covered herein. You represent that you have sufficient investment sophistication to critically assess the information, analysis and opinion on this site or in this report. You further agree that you will not communicate the contents of reports and other materials on this site to any other person unless that person has agreed to be bound by these same terms of service. If you download or receive the contents of reports or other materials on this site as an agent for any other person, you are binding your principal to these same Terms of Service.
You should assume that as of the publication date of their reports and research, Fuzzy Panda and possibly any companies affiliated with them and their members, partners, employees, consultants, clients and/or investors (the "Fuzzy Panda Affiliates") have a short position in all stocks (and/or options, swaps, and other derivatives related to the stock) and bonds of companies covered in such reports and research. They therefore stand to realize significant gains in the event that the prices of either equity or debt securities of the subject companies decline. Fuzzy Panda and the Fuzzy Panda Affiliates intend to continue transactions in the securities of issuers covered on this site for an indefinite period after their first report on a subject company, and they may be short, neutral, or long at any time hereafter regardless of initial position and the views stated in Fuzzy Panda' research. Fuzzy Panda will not update any report or information on this website to reflect such positions or changes in such positions.
This is not an offer to sell or a solicitation of an offer to buy any security, nor shall Fuzzy Panda offer, sell or buy any security to or from any person through this site or reports on this site. Fuzzy Panda and the Fuzzy Panda Affiliates do not render investment advice to anyone unless they have an investment adviser-client relationship with that person evidenced in writing. You understand and agree that Fuzzy Panda does not have any investment advisory relationship with you or fiduciary duties to you. Giving investment advice requires knowledge of your financial situation, investment objectives, and risk tolerance, and Fuzzy Panda has no such knowledge about you.
If you are in the United Kingdom, you confirm that you are accessing research and materials as or on behalf of: (a) an investment professional falling within Article 19 of the Financial Services and Markets Act 2000 (Financial Promotion) Order 2005 (the "FPO"); or (b) high net worth entity falling within Article 49 of the FPO.
Fuzzy Panda's research and reports express their opinions, which are based upon generally available information, field and online research, and inferences and deductions through due diligence and the analytical process. To the best of their ability and belief, all information contained in their reports is accurate and reliable, and has been obtained from public sources believed to be accurate and reliable, and they have not obtained information from persons who are insiders or connected persons of the stock covered or who may otherwise owe any fiduciary duty or duty of confidentiality to the issuer. However, such information is presented "as is," without warranty of any kind, whether express or implied. Fuzzy Panda makes no representation, express or implied, as to the accuracy, timeliness, or completeness of any such information or with regard to the results to be obtained from its use. Further, any report on this site contains a very large measure of analysis and opinion. All expressions of opinion and conclusions are subject to change without notice, and Fuzzy Panda does not undertake to update or supplement any reports or any of the information, analysis and opinion contained in them.
You agree that the expressions of information in this report are copyrighted and owned by Fuzzy Panda Research, and you therefore agree not to distribute this report or any excerpts from it (whether the downloaded file, copies / images / reproductions, or the link to these files) in any manner other than by providing the following link: www.fuzzypandaresearch.com. If you have obtained Fuzzy Panda's research in any manner other than by downloading from that link, you may not read such research without going to that link and agreeing to the Terms of Service. You further agree that any dispute between you and Fuzzy Panda and their affiliates arising from or related to the material on their website shall be governed by the laws of the State of California, without regard to any conflict of law provisions. You knowingly and independently agree to submit to the personal and exclusive jurisdiction of the state and federal courts located in California and waive your right to any other jurisdiction or applicable law. The failure of Fuzzy Panda to exercise or enforce any right or provision of these Terms of Service shall not constitute a waiver of this right or provision. If any provision of these Terms of Service is found by a court of competent jurisdiction to be invalid, the parties nevertheless agree that the court should endeavor to give effect to the parties' intentions as reflected in the provision and rule that the other provisions of these Terms of Service remain in full force and effect, in particular as to this governing law and jurisdiction provision. You agree that regardless of any statute or law to the contrary, any claim or cause of action arising out of or related to this report or the material on this website must be filed within one (1) year after such claim or cause of action arose or be forever barred.