The Silvon Simmons court case we recently uncovered reveals the many flaws of ShotSpotter (Nasdaq:  SSTI) and why we are short the company.
In Silvon Simmons, a police officer shot an allegedly armed black suspect (Simmons) in the back.  The officer & suspect had 2 different accounts of what happened: the officer said the suspect had a gun and fired at the officer before he shot Simmons in the back, while the suspect said he was unarmed and never fired at the officer.  The prosecution hinged their case on a ShotSpotter report saying there were 5 shots fired.  Ultimately, the Judge ruled ShotSpotter data inadmissible, labeling it as "unreliable scientific evidence." Simmons was acquitted and is now suing ShotSpotter and the police for "fabricating and falsifying evidence." (Case – 6:17-cv-06176-MAT).
The ShotSpotter deficiencies that Simmons revealed included unreliable data and results that could be modified after the fact.  In addition, other courts have refused to admit ShotSpotter data because the technology has not "reached general acceptance in the scientific community" (State of California vs Gillard – pg 54 line 27-28), principally because SSTI has not done the work to get their results confirmed by independent analysis.
The Simmons case not only casts doubt on the integrity of the company's data, but it also sheds further light on fundamental problems with ShotSpotter's technology.  For example, ShotSpotter initially mistook the gunshots in Simmons for the sound made by helicopter rotors. They failed to spot the shots.  Only when the Police Department informed ShotSpotter that shots had been fired did they generate a report.  That report said 4 shots were fired, so the police department informed SSTI of the officer's story and requested them to look for more shots.   Then, ShotSpotter employees modified that same forensic report (the "evidence") again—days after the event—to say 5 shots had been fired.
Below is part of an edited ShotSpotter forensic report that has never before been seen by Wall Street: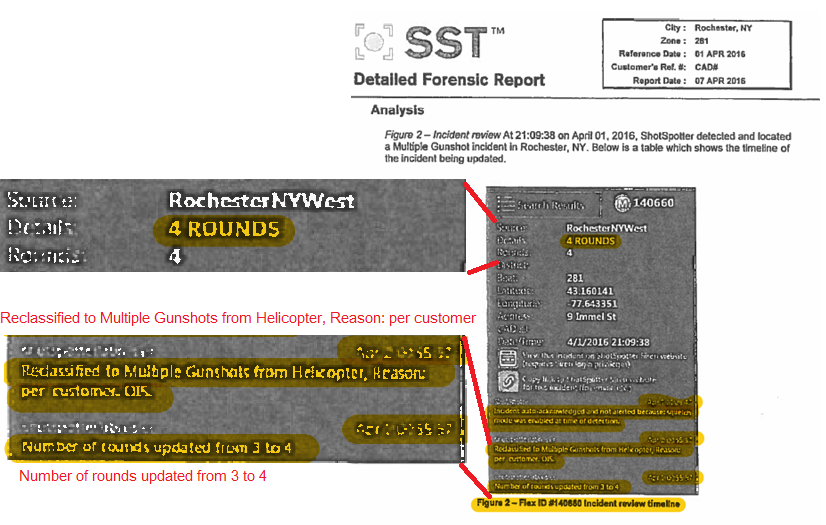 Source: People of NY vs Silvon Simmons – Motion in Limine Indict No 16/404 pg 20, 26 (link)
This case and others have been overlooked by sell-side analysts, who maintain buy ratings and high price targets despite SSTI's astronomical valuation (9.5x P/Sales). ShotSpotter has also changed company policies to ensure that humans, rather than their software, are reviewing & reporting possible shots fired.  This is perplexing, since the company markets itself as a SaaS business.
We are short ShotSpotter because:
The Simmons case alleges unreliable data & forensic reports that can be modified after the fact.
ShotSpotter's accuracy percentage is a product of their marketing department, not their data scientists.
ShotSpotter's technology & testimony has been deemed inadmissible in certain courts in two of its major markets (CA & NY).
ShotSpotter has made no known efforts to get independent confirmation of the validity of their data for court use.
ShotSpotter requires human analysis to prevent false positives that their software generates.
We believe 9.5x EV/Sales is an unsustainable valuation for this unprofitable company.
The insights into ShotSpotter's flaws gained from the Simmons case shoot holes right through the Wall Street bull case.